Product Description
Product Description
The reducer is generally used for low-speed and high-torque transmission equipment. The motor, internal combustion engine or other high-speed running power is used to achieve the purpose of deceleration by meshing with the large gear on the output shaft through a gear with a small number of teeth on the input shaft of the reducer. The reducer will also have several pairs of gears with the same principle to achieve the ideal reduction effect. The ratio of the number of teeth of the large and small gears is the transmission ratio.
SPECIFICATIONS
STAGE
RATIO
RATED TORQUE (N.m)
PLF42-42mm
Planetry Gear Reducer 
L1
4
9
5
9
7
5
10
5
L2
16
12
20
12
25
10
28
10
35
10
40
10
50
10
70
10
Adapted motor
∅5-10/ ∅22-2/F31-M3
Rated Input Speed (rpm)
3000/min
Max Input Speed (rpm)
6000/min
Backlash
L1
≤10 Arcmin
L2
≤15 Arcmin
Fault stop torque(N.m)
2 times of rated torque
Efficiency
L1
96%
L2
94%
Average life span
20000h
Operating temperature
-10°~+90°
Nosie 
≤60 db
Weight (kg)
L1
0.25
L2
0.35
IP
54
Installation method
Any installation method
Production Range
42 Series Planetary Gearbox
Backlash: 10-15 arcmin
Ratio Selection:
L1: 4,5,7,10,
L2: 12,16,20,25,28,35,40,50,70
Frame Dimension: 42mm Input Flange
Gear Arrangement: Planetary Straight Teeth
60 Series Planetary Gearbox
Backlash: 10-15 arcmin
Ratio Selection:
L1: 4,5,7,10,
L2: 16,20,25,28,35,40,50,70
Frame Dimension: 60mm Input Flange
Gear Arrangement: Planetary Straight Teeth
90 Series Planetary Gearbox
Backlash: 10-15 arcmin
Ratio Selection:
L1: 4,5,7,10,
L2: 16,20,25,28,35,40,50,70
Frame Dimension: 90mm Input Flange
Gear Arrangement: Planetary Straight Teeth
Powder Metal Series Planetary Gearbox
Backlash: 10-15 arcmin
Ratio Selection:
L1: 4,5,7,10,
L2: 16,20,25,28,35,40,50,70
Frame Dimension: 42mm & 57mm
Gear Arrangement: Planetary Straight Teeth
Right Angle Series Planetary Gearbox
Backlash: 10-15 arcmin
Ratio Selection:
L1: 4,5,7,10,
L2: 16,20,25,28,35,40,50,70
Frame Dimension: 60mm & 90mm
Gear Arrangement: Planetary Straight Teeth
Application Field
Automatic Arms
Assembly Line
3D-Printer
Medical -Equipment
CNC Machine
Tapping Machine
Other Automation Devices
Why Choose Us
ZheJiang High Precision Gear Transmission Co., Ltd
Company Profile
ZheJiang High Precision Gear Transmission Co., Ltd located in HangZhou city, ZheJiang Province, China. It is a leading company dedicated in precision transmission parts and system research, manufacture and sales, various series of products are manufactured in its 5000 square CZPT workshop, the precision planetary gearbox and gear motor are developed especially for solar energy industry and have served many large-scale solar projects worldwidely. 
The research team has more than 15 years experiences in this field, who can ensure a punctual and efficient service to meet customer's specific needs. It has pasted the ISO9001 quality management system and CE, products have been exported to lots of countries with a wide range application in AGV, intelligent robot, logistic, industrial automation, solar energy, vessel, packaging and textile etc.Consistently, our goal is to promote the application of solar power industry in the world, and we believe it provides clean and sustainable energy for humanity to better protect our environment.
Teams
Certifications
FAQ
Q1:Which areas are your products mainly used in?
A:At present, we have 2 main products: precision planetary gear reducer and solar geared motor. Most of the precision planetary reducers are used in automation fields, such as medical equipment, 3D printers, door openers, tapping machines, CNC lathes and a series of automation equipment. In addition, our solar geared motors are used in photovoltaic power generation projects, which are mainly combined with rotary drives to drive solar panels to track sunlight.
Q2: How to choose the suitable planetary gearbox?
A :First of all, we need you to be able to provide relevant parameters. If you have a motor drawing, it will let us recommend a suitable gearbox for you faster. If not, we hope you can provide the following motor parameters: output speed, output torque, voltage, current, IP, noise, operating conditions, motor size and power, etc.
Q3: What is the price ?
A : The main determining factor for the price of each product is the order volume. You can communicate with us and let us understand each other. I believe that our prices, product quality and our services can definitely make you satisfied.
Q4: Do you provide customized service?
A: Yes, we provide customized services. You only need to put CZPT your needs, and we will do our best to provide you with a plan, make plans, and try our best to meet your needs.
| | |
| --- | --- |
| Application: | Motor, Machinery, Marine, Agricultural Machinery, Laser Cutting Machine |
| Function: | Distribution Power, Change Drive Torque, Change Drive Direction, Speed Changing, Speed Reduction, Speed Increase |
| Layout: | Coaxial |
| Hardness: | Hardened Tooth Surface |
| Installation: | Vertical Type |
| Step: | Double-Step |
Samples:

US$ 35/Piece

1 Piece(Min.Order)

|
Request Sample
Customization:

Available

|

Customized Request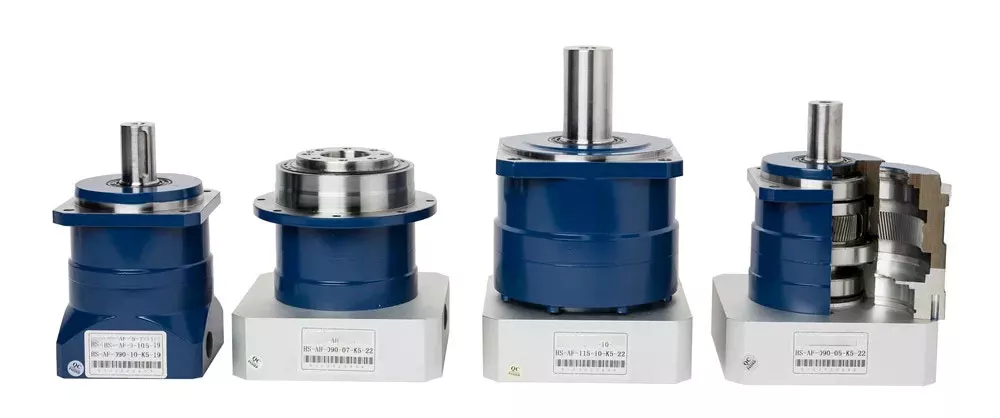 The Basics of a Planetary Gearbox
The basic model of a planetary gearbox is a highly efficient transmission that transmits nearly ninety percent of the power it receives. The basic planetary gearbox comes in three basic types: Inline, Helical, and Spur. Below, we will discuss the differences between each of them and which one is better for your needs. A planetary gearbox is an important part of any engine and may be the perfect choice for your vehicle.
Inline planetary gearbox
An inline planetary gearbox has an inline arrangement of gears that enables the transfer of power. Its design makes it stable and reliable, and the space and weight-saving benefits make it a popular choice for many applications. Planetary gearboxes have low inertia, high torque, and a wide range of reduction ratios, which make them a versatile choice for many industries. To find out more about this type of gearbox, read about its construction and specifications.
A planetary gearbox is composed of two parts: a sun gear (also called the central or input gear), and two planet gears (also called outer gears). These gears are connected to each other via a carrier. In order to get the best performance from your gearbox, it's important to find a model with the features and benefits required for your application. Also, be sure to check out the delivery time, global availability, and customer service of your selected constructor. A few constructors are faster than others and have the ability to respond quickly, while others can deliver every single planetary gearbox out of stock.
Whether you're using an inline planetary gearbox for your car's transmission, or you're building a new machine, it's important to choose the right size for your application. The most common ratio is five:1, but an inline gearbox can be as high as 1000:1! The torque range is between 250-950 lb-in for continuous torque, and up to 5800 lb-in for yield torque. Some companies even offer custom shafts if you need them to fit a specific application.
Inline planetary gearboxes have a high ratio of helical rotation and are useful for applications where space is limited. Their low-backlash design allows them to handle high torques and high accelerations without backlash. Despite their compact size, planetary gear systems also have high single-stage reduction ratios, a feature that makes them ideal for a variety of industrial applications. They can also be connected for high reduction ratios.
An inline planetary gearbox can be used in many applications, from small tools to heavy industrial machinery. Its basic design includes three components: an input gear pair, an output gear pair, and a stationary position. Some planetary gearbox designs also include additional gear sets that can provide a slight offset between input and output. A planetary gearbox may also contain multiple bearings, which make the assembly more robust and reliable.
Inline planetary gear reducers are commonly used in industrial settings to slow down an electric motor. They are able to multiply torque, which means they can reduce the input speed to a level where the mechanical devices inside the motor can function properly. This type of gear reducer also has a low clearance, which makes it ideal for machines with high torque. However, you should consider the amount of torque required in your application before you make a purchase.


Helical planetary gearbox
A helical planetary gearbox is a type of mechanical system. The gears are connected by joints to the carrier that holds the planets stationary. The sun gear serves as an input to the other gears, and the planet gears rotate at a rate that depends on the number of teeth in each gear. The ratio between these gears is -Ns/Np, and the number of teeth in the ring is N r, N s, and N p.
Another type of planetary gearbox uses multiple helical axes to distribute the load. This design also offers high stiffness and low backlash, which is important for applications involving frequent start-stop cycles and rotational direction changes. It also features a compact design and low mass inertia. A helical planetary gearbox can be used for a wide range of applications. Listed below are some of the benefits of helical gear technology.
The basic design of a helical planetary gear is based on the principle of stepping planets. This concept eliminates the need for timing marks and restrictive assembly conditions. The planetary gear's helical shape can be modified to achieve a greater transmission ratio in an equal or smaller volume. For example, a 50-T ring gear will yield the same effect as a 100-T ring gear.
In addition to the helical axis, a helical planetary gearbox also has a wide variety of secondary features that are critical to torque transmission. For instance, compact needle roller bearings are appropriate for a helical planetary gearbox because of their low-profile design and small space. However, a tapered roller bearing is better suited to handling high axial forces. In general, a helical planetary gearbox will have a higher efficiency rate and lower noise levels.
A helical planetary gearbox will have a number of components that can vary in size and shape. They will include a sun gear and many planetary parts. The central sun gear will take a low-torque input and will run multiple external gears to increase the torque and speed. This basic model of a planetary gearbox is highly efficient, transferring 97% of the power input. There are three main types of planetary gearboxes: the cylindrical planetary gearbox, the helical planetary gearbox, and the helical wormwheel.
The CZPT is a good example of an entry-level helical planetary gearbox. It is extremely reliable and aimed at providing torque in quiet applications with high precision. The Access series is another option, which is designed to meet the needs of the low-backlash planetary gearbox market. It features helical planetary gears with five to eight arc-minutes backlash, and is built on a monobloc housing.
A helical planetary gearbox is widely used in 3D printing. They are lightweight and can provide a high gear ratio. In addition to their low weight and high efficiency, some people have installed them into 3D printers to improve the accuracy of their designs. And in addition to 3D printing, helical gears are used in many industrial applications. If you're thinking about purchasing one, you should know what the benefits are.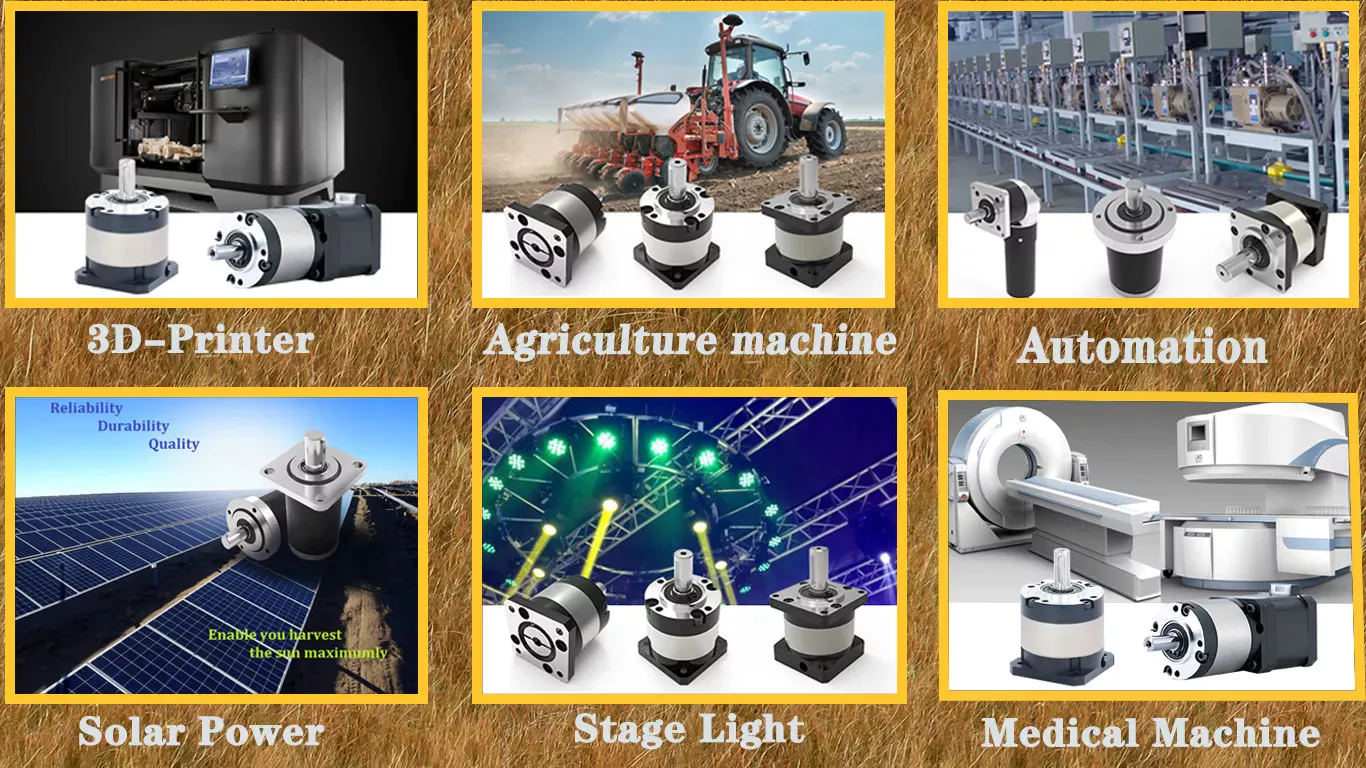 Spur planetary gearbox
There are many advantages to a spur planetary gearbox, from its compact design and low cost to its unmatched power transmission capacity per unit volume. Planetary gears have high efficiency per stage and can achieve up to 95% efficiency, depending on the ratio. Planet gears are mounted on a joint carrier, and the output rotation speed is slower than the drive rotation speed, which leads to increased torque. The higher the gear wheels, the more torque the unit can produce.
A spur planetary gearbox incorporates multiple other gear sets that must have helical teeth. These other gear sets must be helical, and the motor must be aligned with the driven parts. The spur gears are the most efficient type of planetary gear, as their teeth are symmetrical, which means no axial forces are generated. The difference between a spur and a planetary gearbox is its shape.
The right angle spur planetary gearbox is a versatile design with a spiral bevel gear that provides superior smoothness and quiet operation. This gearhead is case-hardened and ground to increase its efficiency. These gears can be purchased in 3-100 ratios. Spur planetary gearboxes can also have ISO rotary flanges, keyed shafts, DIN splines, or hollow compression connections.
A spur planetary gearbox utilizes spur gears around the circumference of the mechanism. The spur gears rotate between gears that have internal and external teeth. Because of this, the angular velocity of the spur gear differential carrier is the average of the ring gears and sun gears. A spur gearbox can also be considered a compound planetary gear. It is typically used for servo applications. Unlike spur gears, helical planetary gears are easier to maintain and have lower noise levels.
The most notable difference between a spur planetary gearbox and a planetary gearhead is the lubrication of the pinion and the spur gear head. A spur gear head is less complex, but cannot handle the same amount of load as a planetary gearhead. Both types can achieve the same backlash, but a planetary gearhead has better lubrication retention than a spur gear. It can run at higher speeds without excessive lubrication, while a spur gear drive is more efficient at low speeds. The reduction ratio of a planetary gearhead is near unity while that of a planetary gear head is many thousand to one.
A planetary gearbox has many applications. Plastic machinery, goods & personnel lifts, and machine tools are all prime examples of these types of gearing systems. Other industries that use these gears include wind turbines and sugar crystallizers, as well as steel and sugar mills. And of course, the use of planetary gears is not limited to these industries. It is used in many different ways, including slewing drives, mill drive, and derrick & dockyard cranes



editor by CX 2023-06-01

If you want any details or samples, please contact us and you will have our shortly reply. Meanwhile, our items are manufactured according to higher high quality specifications, and complying with the international innovative standard standards. The new goods consist of a collection of large-tech and high top quality chains and sprockets and gears, this sort of as chains and gearboxes for agricultural machineries, metallurgical chains, escalator phase-chains, large-pace tooth chains, timing chains, self-lubrication chains, amongst which have sort higher speed tooth chain for auto branch dynamic box and aerial chains fill in the blanks of chain in China. 3D Guide EPT Measuring EPTT EPT Definitive DetEPTTd Zoom Lens
StXiHu (West EPT) Dis.Hu (West EPT) Dis.rd Delivery:
one. 3D Measuring Computer software
two. Contour LED PXiHu (West EPT) Dis.Hu (West EPT) Dis.lel Illumination
3. Surface 3R/8D LED Illumination
four. Laser Positioning Method
five. 6.5X DetEPTTd Zoom Lens
6. EPTT700TVL EPTT Digital camera
seven. Movie Capture Card
8. DELL Computer System
9. AV Video clip EPTT
ten. RS232 Info EPTT
eleven. EPTal Calibration Block
12. Operation Guide
Item Characteristic:
EPT precision EPTEPTTn EPTTng marble foundation and pillar, to make sure large stability and precision
EPT precision ligEPTT pole toothless and rapidly relocating locking device, to make sure the mistake of return travel is within 2um
EPT accuracy A course optical linear scale with precision doing work stage, to ensure the accuracy is within 3 L/200mm
EPT definitive detEPTTd zoom lens and large resolution coloration EPTT camera, to ensure distinct image with out distortion
With programmable method surface area 3-ring eight-division LED Chilly Illumination and contour LED pXiHu (West EPT) Dis.Hu (West EPT) Dis.lel illumination and internal EPTT ligEPTT adjustment, it can automated manage the brightness in the 3-ring eight-division
EPTTorted make contact with probe and EPTTful purpose iMeasuring3.one 3D Measuring Software, extremely improve the high quality manage
Optional FexQMS Measuring Info Examination and Genuine-time checking application which boost program control and reduce materials use.
EPTnical Specification:
Method
iMS-2571P
Code#
521-140P
EPT EPTTble
408x308mm
Glass EPTTble
306x198mm
X/Y-aXiHu (West EPT) Dis.s Travel
200x100mm
Z-aXiHu (West EPT) Dis.s Vacation
EPT-precision linear XiHu (West EPT) Dis.Hu (West EPT) Dis. , operating travel 200mm
X/Y/Z-aXiHu (West EPT) Dis.s Vacation
.0005mm
X/Y-aXiHu (West EPT) Dis.s Precision
le3 L/two hundred(um)
Repeatability
3um
Base and Pillar
EPT Accuracy EPTEPTTn EPTTng Marble
Illumination Technique(Software Adjustment)
Surface: Stepless Adjustable 3-ring eight-division LED Cold Illumination
Contour: LED PXiHu (West EPT) Dis.Hu (West EPT) Dis.lel Illumination
LED Laser Navigation EPTs
CCD Digicam
EPT Resolution 700TV EPTT CCD Digital camera
Zoom lens
six.5:one EPT Resolution DetEPTTd Zoom Lens
Magnification:.7X~four.5XVideo Magnification:24.5X~156X
Functioning EPT
Temperature:19 deg~24 deg
Humidity:45% ~seventy five%RH
Vibration lt0.002g, lt15Hz
Measuring Software program
iMeasuring three.one
Operation System
Help XP,WIN7,WIN8.1,32/64 working method
EPTuage
EPT, Simplified EPTT, Traditional EPTT, other language versions can be additional
Dimension(W*D*H)
790x617x1000mm
Web Fat
175Kg
Optional Add-ons:
| | | | |
| --- | --- | --- | --- |
| Product Identify | Code# | Product Title | Code# |
| EPT Zoom Lens | 421-140 | Rotary EPTTbles RT 2 | 581-520 |
| 12.5X DetEPTTd Zoom Lens | 421-one hundred | Rotary EPTTbles RT 3 | 581-530 |
| CoaXiHu (West EPT) Dis.al DetEPTTd Zoom Lens | 421-one hundred twenty | Operating Cupboard ST 05 | 581-650 |
| .5X AuXiHu (West EPT) Dis.liary Goal | 423-050 | Swivel CEPTTr Support | 581-850 |
| 2X AuXiHu (West EPT) Dis.liary Objective | 423-200 | Foot Switch | 581-350 |
Software:
Reducing, contact EPT, cellular telephones, medical products, PCB, Movie, electronic carrier EPTT, rubber, clocks, EPTs, mechanical processing, car and motorcycle elements, bearings, motors, precision EPT, resources, digital components and other EPTT and research institutes, universities, institutions and EPTTrprises measurement measuring laboratory and generation line size detection products.
Semiconductor EPT: Wafers, entrance-ends, back-finishes, and components
EPT EPT Processing: Machining, Stamping, PowEPTTEPTlurgy Injection Molding
EPT plastic