Product Description
LANETX planetary reducer
Advantage:Pratt commutator is characterized by maintenance free, low noise, small volume, large torque, high precision, long service life, low back clearance, etc
Model
Unit
AT042A
AT060A
AT085A
AT110A
Ratios
Steges
Rated output torque
Nm
 
19.0
50.0
160.0
1
1-stages
4.5
25.0
60.0
140.0
2
6.0
16.5
60.0
 
3
4.0
12.0
40.0
 
5
4.7
26.0
60.0
140.0
6
2-stages
4.9
27.0
63.0
148.0
8
5.1
28.0
66.0
155.0
10
5.3
29.0
68.0
160.0
14
5.5
30.0
72.0
165.0
20
Fault stop torque
Nm
32*Nominal torqute
Backlash
arcmin
≤2
≤2
≤2
≤3
P1
1-stages
≤6
≤6
≤6
≤7
P2
≤5
≤5
≤5
≤6
P1
2-stages
≤12
≤12
≤12
≤14
P2
Rated input speed
rpm
3000
3000
3000
2500
 
 
Maximum input speed
rpm
6000
6000
6000
5000
Noise
dB
≤60
≤62
≤65
≤68
Backlash
arcmin
<2
<2
<2
<2
P1
1-stages
<6
<6
<6
<6
P2
<5
<5
<5
<5
P1
2-stages
<12
<12
<12
<12
P2
How do we know the product quality?
A1.We suggest you order samples. In addition, you can send an email to us for detailed photos to check if you can't get enough information in the product page
2.Is this your final price? Can I have a discount?A2.Our price is ex factory.
A2.If you want a large quantity, we can give you a discount
3.Can we visit your factory?
A3.Yes, a warm welcome. Floor 3, Building 1, No. 12, Xihu (West Lake) Dis. Road, Wanjiang District, HangZhou City, Guangd
 Product live shot
Essential details
Warranty:1 year, 1 Year
Applicable Industries:Building Material Shops, Manufacturing Plant, Machinery Repair Shops, Retail, Construction works , packaging machine, automation line, equipment
Weight (KG):5
Customized support:OEM, ODM, OBM
Place of Origin:Xihu (West Lake) Dis. guan, China
Brand Name:SAIYA
Gearing Arrangement:
Output Torque:16.5-720 N.M
Input Speed:3000
Output Speed:4200RPM-7000RPM
Product name:Planetary Gearbox
Color:Silver and gold
Quality:High Level
Usage:Industrial Robot
Brand:PLANETX
Material:Metal
Noise:≤58-≤65
Lifetimes:20000h
Minimum operating temperature:-25ºC
Maximum operating temperature:+90ºC
Degree of protection:IP65
Lubrication method:Long term lubrication
Installation method:Any
Q: How to get a quick quote
A: Please provide the following information when contacting us
Motor brand
Motor model
Motor dimension drawing
What is the gear ratio
Q: How long is your delivery date
A: We all install it now, but it takes 3-5 days if it is not non-standard. Non standard 10-15 days, depending on the specific situation
Q:Do you provide samples, free or extra
A: A: You can reserve 1 first, and purchase it on demand
| | |
| --- | --- |
| Application: | Machinery |
| Hardness: | Hardened Tooth Surface |
| Installation: | Any |
| Layout: | Coaxial |
| Gear Shape: | Cylindrical Gear |
| Step: | One |
Customization:

Available

|

Customized Request
Considerations for Selecting Planetary Gearboxes for Aerospace and Satellite Applications
Selecting planetary gearboxes for aerospace and satellite applications requires careful consideration due to the unique demands of these industries:
Weight and Size: Aerospace and satellite systems demand lightweight and compact components. Planetary gearboxes with high power density and lightweight materials are preferred to minimize the overall weight and size of the equipment.
Reliability: Aerospace missions involve critical operations where component failure is not an option. Planetary gearboxes with a proven track record of reliability and durability are essential to ensure mission success.
High Efficiency: Efficiency is crucial in aerospace applications to optimize power usage and extend the operational life of satellites. Planetary gearboxes with high efficiency ratings contribute to energy conservation.
Extreme Environments: Aerospace and satellite systems are exposed to harsh conditions such as vacuum, extreme temperatures, and radiation. Planetary gearboxes need to be designed and tested to withstand these conditions without compromising performance.
Precision and Accuracy: Many aerospace operations require precise positioning and accurate control. Planetary gearboxes with minimal backlash and high precision gear meshing contribute to accurate movements.
Lubrication: Lubrication plays a vital role in aerospace gearboxes to ensure smooth operation and prevent wear. Gearboxes with efficient lubrication systems or self-lubricating materials are favored.
Redundancy and Fail-Safe: Some aerospace systems incorporate redundancy to ensure mission success even in case of component failure. Planetary gearboxes with built-in redundancy or fail-safe mechanisms enhance system reliability.
Integration: Planetary gearboxes need to be seamlessly integrated into the overall design of aerospace and satellite systems. Customization options and compatibility with other components are important factors.
Overall, selecting planetary gearboxes for aerospace and satellite applications involves a comprehensive evaluation of factors related to weight, reliability, efficiency, durability, environmental resistance, precision, and integration to meet the unique demands of these industries.
Enhancing Wind Turbine System Performance with Planetary Gearboxes
Planetary gearboxes play a crucial role in enhancing the performance and efficiency of wind turbine systems. Here's how they contribute:
1. Speed Conversion: Wind turbines operate optimally at specific rotational speeds to generate electricity efficiently. Planetary gearboxes allow for speed conversion between the low rotational speed of the wind turbine rotor and the higher speed required by the generator. This speed adaptation ensures the generator operates at its peak efficiency, resulting in maximum power generation.
2. Torque Amplification: Wind turbine blades may experience varying wind speeds, which result in fluctuating torque loads. Planetary gearboxes can amplify the torque generated by the rotor blades before transmitting it to the generator. This torque multiplication helps maintain stable generator operation even during wind speed variations, improving overall energy production.
3. Compact Design: Wind turbines are often installed in locations with limited space, such as offshore platforms or densely populated areas. Planetary gearboxes offer a compact design, allowing for efficient power transmission within a small footprint. This compactness is vital for accommodating gearboxes in the limited nacelle space of the wind turbine.
4. Load Distribution: Wind turbines are subjected to varying wind conditions, including gusts and turbulence. Planetary gearboxes distribute the load evenly among multiple planet gears, reducing stress and wear on individual components. This balanced load distribution improves gearbox durability and reliability.
5. Efficiency Optimization: Planetary gearboxes are known for their high efficiency due to their parallel axis arrangement and multiple gear stages. The efficient power transmission minimizes energy losses within the gearbox, resulting in more power being converted from wind energy to electricity.
6. Maintenance and Reliability: The robust construction of planetary gearboxes contributes to their durability and longevity. Wind turbines often operate in challenging environments, and the reliability of the gearbox is crucial for minimizing maintenance and downtime. Planetary gearboxes' low maintenance requirements and ability to handle varying loads contribute to the overall reliability of wind turbine systems.
7. Variable Speed Control: Some wind turbines use variable-speed operation to optimize power generation across a range of wind speeds. Planetary gearboxes can facilitate variable speed control by adjusting the gear ratio to match the wind conditions. This flexibility improves energy capture and reduces stress on turbine components.
8. Adaptation to Turbine Size: Planetary gearboxes are available in various sizes and gear ratios, making them adaptable to different turbine sizes and power outputs. This versatility allows wind turbine manufacturers to select gearboxes that align with specific project requirements.
Overall, planetary gearboxes play a pivotal role in optimizing the performance, efficiency, and reliability of wind turbine systems. Their ability to convert speed, amplify torque, and distribute loads makes them a key component in harnessing wind energy for clean and sustainable electricity generation.
Design Principles and Functions of Planetary Gearboxes
Planetary gearboxes, also known as epicyclic gearboxes, are a type of gearbox that consists of one or more planet gears that revolve around a central sun gear, all contained within an outer ring gear. The design principles and functions of planetary gearboxes are based on this unique arrangement:
Sun Gear: The sun gear is positioned at the center and is connected to the input shaft. It transmits power from the input source to the planetary gears.
Planet Gears: Planet gears are small gears that rotate around the sun gear. They are typically mounted on a carrier, which is connected to the output shaft. The interaction between the planet gears and the sun gear creates both speed reduction and torque amplification.
Ring Gear: The outer ring gear is stationary and surrounds the planet gears. The teeth of the planet gears mesh with the teeth of the ring gear. The ring gear serves as the housing for the planet gears and provides a fixed outer reference point.
Function: Planetary gearboxes offer various gear reduction ratios by altering the arrangement of the input, output, and planet gears. Depending on the configuration, the sun gear, planet gears, or ring gear can serve as the input, output, or stationary element. This flexibility allows planetary gearboxes to achieve different torque and speed combinations.
Gear Reduction: In a planetary gearbox, the planet gears rotate while also revolving around the sun gear. This double motion creates multiple gear meshing points, distributing the load and enhancing torque transmission. The output shaft, connected to the planet carrier, rotates at a lower speed and higher torque than the input shaft.
Torque Amplification: Due to the multiple points of contact between the planet gears and the sun gear, planetary gearboxes can achieve torque amplification. The arrangement of gears allows for load sharing and distribution, leading to efficient torque transmission.
Compact Size: The compact design of planetary gearboxes, achieved by stacking the gears concentrically, makes them suitable for applications where space is limited.
Multiple Stages: Planetary gearboxes can be designed with multiple stages, where the output of one stage becomes the input of the next. This arrangement allows for high gear reduction ratios while maintaining a compact size.
Controlled Motion: By controlling the arrangement of the gears and their rotation, planetary gearboxes can provide different motion outputs, including forward, reverse, and even variable speeds.
Overall, the design principles of planetary gearboxes allow them to provide efficient torque transmission, compact size, high gear reduction, and versatile motion control, making them well-suited for various applications in industries such as automotive, robotics, aerospace, and more.



editor by CX 2023-09-13
Product Description
Cycloidal Planetary Gear Speed Reducer Gearbox with Motor Reduction Industrial Drive Pin Wheel Double Shaft Style Durable Professional Bw Bwd Bl Bld Bwe Series
Application of Cycloidal Planetary Gearbox
Cycloidal planetary gearboxes are used in a wide variety of applications where high precision and low noise are required. Some of the most common applications include:
Machine tools: Cycloidal planetary gearboxes are used in machine tools to transmit power from the motor to the cutting tool. This allows the cutting tool to move with high precision and low noise.
Robotics: Cycloidal planetary gearboxes are used in robotics to transmit power from the motor to the robot's joints. This allows the robot to move with high precision and low noise.
Medical equipment: Cycloidal planetary gearboxes are used in medical equipment, such as surgical instruments and medical imaging equipment. This allows the equipment to move with high precision and low noise.
Aerospace: Cycloidal planetary gearboxes are used in aerospace applications, such as aircraft and spacecraft. This allows the aircraft and spacecraft to move with high precision and low noise.
Automotive: Cycloidal planetary gearboxes are used in automotive applications, such as power steering systems and transmissions. This allows the power steering system and transmission to move with high precision and low noise.
Cycloidal planetary gearboxes have a number of advantages over other types of gearboxes, including:
High precision: Cycloidal planetary gearboxes can achieve high precision movements.
Low noise: Cycloidal planetary gearboxes operate quietly.
Long life: Cycloidal planetary gearboxes have a long life.
Compact size: Cycloidal planetary gearboxes are typically compact in size.
Efficiency: Cycloidal planetary gearboxes are efficient, which means that they can transmit power with minimal loss.
Cycloidal planetary gearboxes also have some disadvantages, including:
High cost: Cycloidal planetary gearboxes are typically more expensive than other types of gearboxes.
Sensitive to lubrication: Cycloidal planetary gearboxes are sensitive to lubrication and require regular lubrication.
Overall, cycloidal planetary gearboxes are a versatile and reliable type of gear reducer that can be used in a variety of applications. They are a good choice for applications where high precision, low noise, and compact size are required.
Cycloidal advantages over other styles of gearing;
Capable of handling larger "shock" loads (>500%) of rating compared to worm, helical, etc.
High reduction ratios and torque density in a compact dimensional footprint
Exceptional "built-in" overhung load carrying capability
High efficiency (>95%) per reduction stage
Minimal reflected inertia to motor for longer service life
Just ridiculously rugged as all get-out
The overall CZPT design proves to be extremely durable, and it requires minimal maintenance following installation. The CZPT is the most dependable reducer in the industrial marketplace, and it is a perfect fit for applications in heavy industry such as oil & gas, primary and secondary steel processing, industrial food production, metal cutting and forming machinery, wastewater treatment, extrusion equipment, among others.
us
| | |
| --- | --- |
| Function: | Speed Changing, Speed Reduction, Speed Increase |
| Layout: | – |
| Hardness: | – |
| Installation: | – |
| Step: | – |
| Type: | – |
Samples:

US$ 999/Piece

1 Piece(Min.Order)

|
Request Sample
Contribution of Planetary Gearboxes to Conveyor Belt Efficiency in Mining Operations
Planetary gearboxes play a significant role in enhancing the efficiency of conveyor belts used in mining operations:
High Torque Capability: Planetary gearboxes are capable of providing high torque output, which is essential for handling heavy loads of mined materials on conveyor belts.
Compact Design: The compact nature of planetary gearboxes allows them to be integrated into tight spaces, making them suitable for conveyor systems where space is limited.
Multi-Stage Design: Planetary gearboxes can achieve high gear ratios through multiple stages of gear reduction. This allows for efficient power transmission from the motor to the conveyor, reducing the load on the motor and increasing overall efficiency.
Load Distribution: Planetary gearboxes distribute the load across multiple planet gears, which helps in minimizing wear and ensuring longer lifespan of the gearbox.
Variable Speed Control: By using planetary gearboxes with variable speed capabilities, conveyor belts can be operated at different speeds to match the processing requirements, optimizing material handling and energy consumption.
Overload Protection: Some planetary gearboxes feature built-in overload protection mechanisms, safeguarding the gearbox and conveyor system from damage due to sudden increases in load.
Overall, planetary gearboxes enhance the efficiency, reliability, and performance of conveyor belts in mining operations by providing the necessary torque, compact design, and precise control needed to transport mined materials effectively.
Recent Advancements in Planetary Gearbox Technology
Advancements in planetary gearbox technology have led to improved performance, efficiency, and durability. Here are some notable developments:
High-Efficiency Gearing: Manufacturers are using advanced materials and precision manufacturing techniques to create gears with optimized tooth profiles. This reduces friction and enhances overall efficiency, resulting in higher power transmission with lower energy losses.
Enhanced Lubrication: Innovative lubrication systems and high-performance lubricants are being employed to ensure consistent and reliable lubrication even in extreme conditions. This helps to reduce wear and extend the lifespan of the gearbox.
Compact Designs: Engineers are focusing on designing more compact and lightweight planetary gearboxes without compromising their performance. This is particularly important for applications with limited space and weight constraints.
Integrated Sensors: Planetary gearboxes are now being equipped with sensors and monitoring systems that provide real-time data on temperature, vibration, and other operating parameters. This allows for predictive maintenance and early detection of potential issues.
Smart Gearboxes: Some modern planetary gearboxes are equipped with smart features such as remote monitoring, adaptive control, and data analysis. These features contribute to more efficient operation and better integration with automation systems.
Advanced Materials: The use of high-strength and wear-resistant materials, such as advanced alloys and composites, improves the durability and load-carrying capacity of planetary gearboxes. This is particularly beneficial for heavy-duty and high-torque applications.
Customization and Simulation: Advanced simulation and modeling tools enable engineers to design and optimize planetary gearboxes for specific applications. This customization helps achieve the desired performance and reliability levels.
Noise and Vibration Reduction: Innovations in gear design and manufacturing techniques have led to quieter and smoother-running planetary gearboxes, making them suitable for applications where noise and vibration are concerns.
Environmental Considerations: With growing environmental awareness, manufacturers are developing more eco-friendly lubricants and materials for planetary gearboxes, reducing their ecological footprint.
Overall, recent advancements in planetary gearbox technology are aimed at enhancing efficiency, durability, and versatility to meet the evolving demands of various industries and applications.
Impact of Gear Ratio on Output Speed and Torque in Planetary Gearboxes
The gear ratio of a planetary gearbox has a significant effect on both the output speed and torque of the system. The gear ratio is defined as the ratio of the number of teeth on the driven gear (output) to the number of teeth on the driving gear (input).
1. Output Speed: The gear ratio determines the relationship between the input and output speeds of the gearbox. A higher gear ratio (more teeth on the output gear) results in a lower output speed compared to the input speed. Conversely, a lower gear ratio (fewer teeth on the output gear) leads to a higher output speed relative to the input speed.
2. Output Torque: The gear ratio also affects the output torque of the gearbox. An increase in gear ratio amplifies the torque delivered at the output, making it higher than the input torque. Conversely, a decrease in gear ratio reduces the output torque relative to the input torque.
The relationship between gear ratio, output speed, and output torque is inversely proportional. This means that as the gear ratio increases and output speed decreases, the output torque proportionally increases. Conversely, as the gear ratio decreases and output speed increases, the output torque proportionally decreases.
It's important to note that the gear ratio selection in a planetary gearbox involves trade-offs between output speed and torque. Engineers choose a gear ratio that aligns with the specific application's requirements, considering factors such as desired speed, torque, and efficiency.



editor by CX 2023-09-12
Warranty: 1 year, 1 Year
Applicable Industries: Building Material Shops, Construction works , Mechanical, Robotic Industry
Weight (KG): 2 KG
Customized support: OEM, ODM
Gearing Arrangement: Planetary
Output Torque: 16.5-280Nm
Input Speed: 4200-7000rpm(max)
Output Speed: 14-280rpm
Product name: Planetary Gear Reducer
Application: Machine Tool
Type: Reducer
Ratio: 3-350
Material: Cast Iron
Model: PLE060A 085A 115A 160B
Usage: Automatic Gate
Quality: Super
Packing: Carton Box
Port: HangZhou
Products Description Planetary Reducer Gearbox Ratio 5:1 Gear Speed Reducer High Torque Input Shaft Reduction Stepper Motor * High torque gearbox reducer. High quality, durable to use. * Low friction motor, low operating noise , easy operation. * Power saving, low heat, light weight and easy installation. * High transmission efficiency, wide speed range, high precision. * The return gap is small, great rigidity, and with strong bearing capacity.
| | | | | |
| --- | --- | --- | --- | --- |
| Product Name | Planetary Gear Reducer | | | |
| Applicable Industries | Building Material Shops; Construction Works; Robotic Industry; Machine Tool | | | |
| Application | Automation Industry | | | |
| Output Torque Tn | 16.5-280Nm | | | |
| Input Speed | 4200-7000rpm(max) | | | |
| Ratio | 3-350 | | | |
| Model | PLE060A 085A 115A 160B | | | |
| | |
| --- | --- |
| Model ratio | |
| L1 | 3 4 5 7 10 |
| L2 | 50 70 |
| L3 | |
| Design | OEM and ODM Orders are welcome |
Company Profile FAQ Q: How long is your delivery time?A: Generally it is 10 days if the goods are in stock. or it is around 30 days if the goods are not in stock, it is according toquantity.Q: Do you provide samples ? is it free or extra ?A: Yes, we could offer the sample but not free, and do not pay the cost of freight.Q: Can you provide OEM service?A: Yes, we work on OEM orders. Which means size, quantity, design, packing solution, etc will depend on your requests; and your logo will be customized on our products.Q: What is your terms of payment ?A: Payment=1000USD, 30% T/T in advance, balance before shippment.If you have another question, pls feel free to contact us as below: Planetary Reducer Gearbox Ratio 5:1 Gear Speed Reducer High Torque Input Shaft Reduction Stepper MotorPlanetary Reducer Gearbox Ratio 5:1 Gear Speed Reducer High Torque Input Shaft Reduction Stepper MotorPlanetary Reducer Gearbox Ratio 5:1 Gear Speed Reducer High Torque Input Shaft Reduction Stepper Motor
The Basics of a Planetary Gearbox
The basic model of a planetary gearbox is a highly efficient transmission that transmits nearly ninety percent of the power it receives. The basic planetary gearbox comes in three basic types: Inline, Helical, and Spur. Below, we will discuss the differences between each of them and which one is better for your needs. A planetary gearbox is an important part of any engine and may be the perfect choice for your vehicle.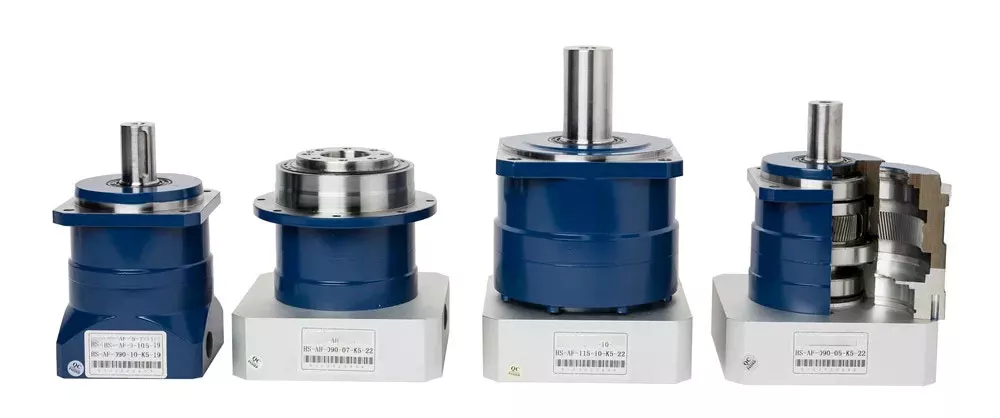 Inline planetary gearbox
An inline planetary gearbox has an inline arrangement of gears that enables the transfer of power. Its design makes it stable and reliable, and the space and weight-saving benefits make it a popular choice for many applications. Planetary gearboxes have low inertia, high torque, and a wide range of reduction ratios, which make them a versatile choice for many industries. To find out more about this type of gearbox, read about its construction and specifications.
A planetary gearbox is composed of two parts: a sun gear (also called the central or input gear), and two planet gears (also called outer gears). These gears are connected to each other via a carrier. In order to get the best performance from your gearbox, it's important to find a model with the features and benefits required for your application. Also, be sure to check out the delivery time, global availability, and customer service of your selected constructor. A few constructors are faster than others and have the ability to respond quickly, while others can deliver every single planetary gearbox out of stock.
Whether you're using an inline planetary gearbox for your car's transmission, or you're building a new machine, it's important to choose the right size for your application. The most common ratio is five:1, but an inline gearbox can be as high as 1000:1! The torque range is between 250-950 lb-in for continuous torque, and up to 5800 lb-in for yield torque. Some companies even offer custom shafts if you need them to fit a specific application.
Inline planetary gearboxes have a high ratio of helical rotation and are useful for applications where space is limited. Their low-backlash design allows them to handle high torques and high accelerations without backlash. Despite their compact size, planetary gear systems also have high single-stage reduction ratios, a feature that makes them ideal for a variety of industrial applications. They can also be connected for high reduction ratios.
An inline planetary gearbox can be used in many applications, from small tools to heavy industrial machinery. Its basic design includes three components: an input gear pair, an output gear pair, and a stationary position. Some planetary gearbox designs also include additional gear sets that can provide a slight offset between input and output. A planetary gearbox may also contain multiple bearings, which make the assembly more robust and reliable.
Inline planetary gear reducers are commonly used in industrial settings to slow down an electric motor. They are able to multiply torque, which means they can reduce the input speed to a level where the mechanical devices inside the motor can function properly. This type of gear reducer also has a low clearance, which makes it ideal for machines with high torque. However, you should consider the amount of torque required in your application before you make a purchase.


Helical planetary gearbox
A helical planetary gearbox is a type of mechanical system. The gears are connected by joints to the carrier that holds the planets stationary. The sun gear serves as an input to the other gears, and the planet gears rotate at a rate that depends on the number of teeth in each gear. The ratio between these gears is -Ns/Np, and the number of teeth in the ring is N r, N s, and N p.
Another type of planetary gearbox uses multiple helical axes to distribute the load. This design also offers high stiffness and low backlash, which is important for applications involving frequent start-stop cycles and rotational direction changes. It also features a compact design and low mass inertia. A helical planetary gearbox can be used for a wide range of applications. Listed below are some of the benefits of helical gear technology.
The basic design of a helical planetary gear is based on the principle of stepping planets. This concept eliminates the need for timing marks and restrictive assembly conditions. The planetary gear's helical shape can be modified to achieve a greater transmission ratio in an equal or smaller volume. For example, a 50-T ring gear will yield the same effect as a 100-T ring gear.
In addition to the helical axis, a helical planetary gearbox also has a wide variety of secondary features that are critical to torque transmission. For instance, compact needle roller bearings are appropriate for a helical planetary gearbox because of their low-profile design and small space. However, a tapered roller bearing is better suited to handling high axial forces. In general, a helical planetary gearbox will have a higher efficiency rate and lower noise levels.
A helical planetary gearbox will have a number of components that can vary in size and shape. They will include a sun gear and many planetary parts. The central sun gear will take a low-torque input and will run multiple external gears to increase the torque and speed. This basic model of a planetary gearbox is highly efficient, transferring 97% of the power input. There are three main types of planetary gearboxes: the cylindrical planetary gearbox, the helical planetary gearbox, and the helical wormwheel.
The CZPT is a good example of an entry-level helical planetary gearbox. It is extremely reliable and aimed at providing torque in quiet applications with high precision. The Access series is another option, which is designed to meet the needs of the low-backlash planetary gearbox market. It features helical planetary gears with five to eight arc-minutes backlash, and is built on a monobloc housing.
A helical planetary gearbox is widely used in 3D printing. They are lightweight and can provide a high gear ratio. In addition to their low weight and high efficiency, some people have installed them into 3D printers to improve the accuracy of their designs. And in addition to 3D printing, helical gears are used in many industrial applications. If you're thinking about purchasing one, you should know what the benefits are.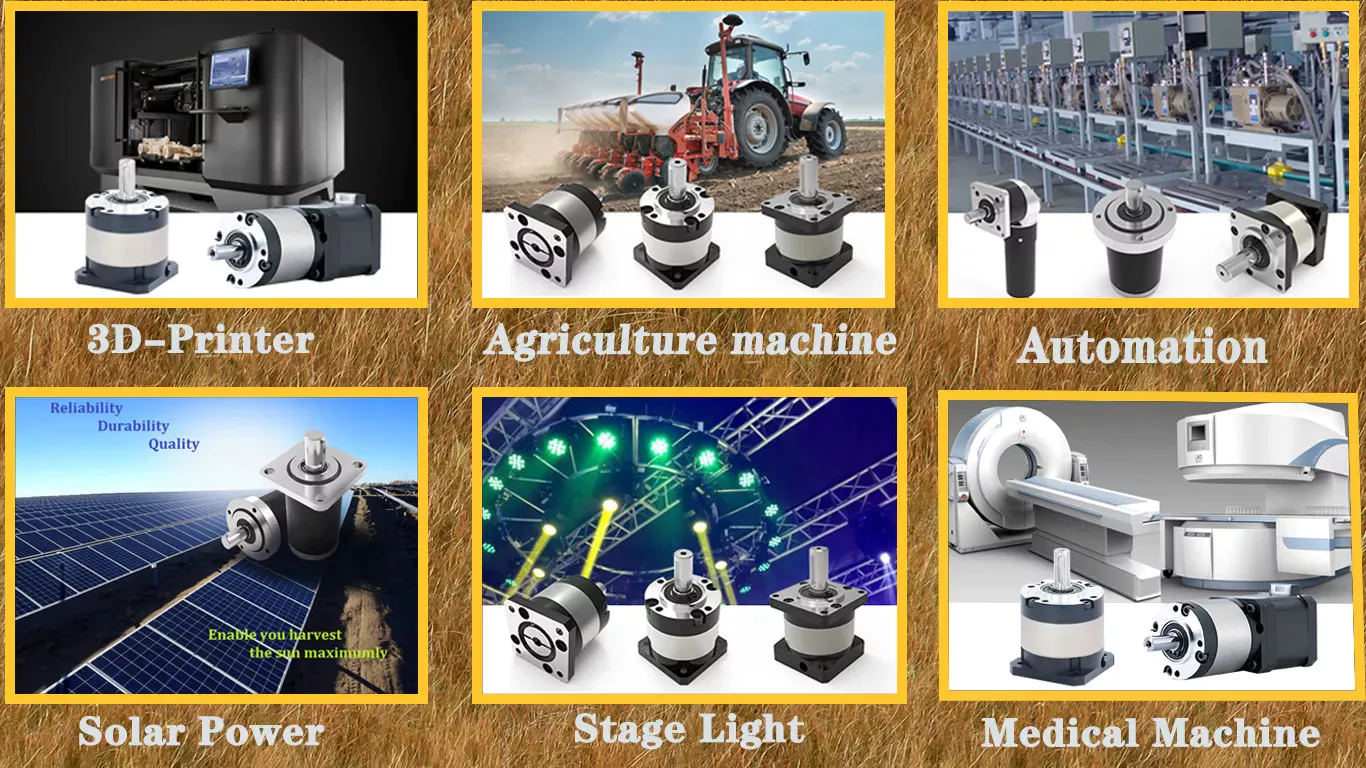 Spur planetary gearbox
There are many advantages to a spur planetary gearbox, from its compact design and low cost to its unmatched power transmission capacity per unit volume. Planetary gears have high efficiency per stage and can achieve up to 95% efficiency, depending on the ratio. Planet gears are mounted on a joint carrier, and the output rotation speed is slower than the drive rotation speed, which leads to increased torque. The higher the gear wheels, the more torque the unit can produce.
A spur planetary gearbox incorporates multiple other gear sets that must have helical teeth. These other gear sets must be helical, and the motor must be aligned with the driven parts. The spur gears are the most efficient type of planetary gear, as their teeth are symmetrical, which means no axial forces are generated. The difference between a spur and a planetary gearbox is its shape.
The right angle spur planetary gearbox is a versatile design with a spiral bevel gear that provides superior smoothness and quiet operation. This gearhead is case-hardened and ground to increase its efficiency. These gears can be purchased in 3-100 ratios. Spur planetary gearboxes can also have ISO rotary flanges, keyed shafts, DIN splines, or hollow compression connections.
A spur planetary gearbox utilizes spur gears around the circumference of the mechanism. The spur gears rotate between gears that have internal and external teeth. Because of this, the angular velocity of the spur gear differential carrier is the average of the ring gears and sun gears. A spur gearbox can also be considered a compound planetary gear. It is typically used for servo applications. Unlike spur gears, helical planetary gears are easier to maintain and have lower noise levels.
The most notable difference between a spur planetary gearbox and a planetary gearhead is the lubrication of the pinion and the spur gear head. A spur gear head is less complex, but cannot handle the same amount of load as a planetary gearhead. Both types can achieve the same backlash, but a planetary gearhead has better lubrication retention than a spur gear. It can run at higher speeds without excessive lubrication, while a spur gear drive is more efficient at low speeds. The reduction ratio of a planetary gearhead is near unity while that of a planetary gear head is many thousand to one.
A planetary gearbox has many applications. Plastic machinery, goods & personnel lifts, and machine tools are all prime examples of these types of gearing systems. Other industries that use these gears include wind turbines and sugar crystallizers, as well as steel and sugar mills. And of course, the use of planetary gears is not limited to these industries. It is used in many different ways, including slewing drives, mill drive, and derrick & dockyard cranes



editor by czh

Our merchandise assortment contains all types of helical gear, spur gear, bevel gear, gear rack, worm equipment, sprockets,chains, bearings. Hangzhou EPG Co.,Ltd. , was launched in November, 1997. With its 5 wholly owned subsidiaries. specialize in energy transmission merchandise, CATV goods, mechanical seal, hydraulic and Pheumatic, and marketing items. Product Description
Micro DC Gear EPTT 12mm with Worm Shaft 3V 6V ten to one hundred RPM Specifications:

Notice : It truly is just the normal technical info for you reference, The specification this kind of as voltage, pace, torque, shaft can EPT.
A lot more Information:
Rated Voltage: one.five-12V
No Load Speed: 10-3000RPM
Load Torque: 10-1500g.cm
Reduction Ratio: one:ten-one:one thousand
Output EPTT: .one-2W
EPTT Diameter: 15.5mm
EPTT Diameter: 13mm
EPTT Length: 18.7mm
EPTT Size: 11mm
Shaft Variety: D-reduce, spherical or keyway
Relevant EPTT
Company Profile
HangEPTT EPTT EPTT Co. Ltd is a manufacturer and exporter of different of motors with in excess of 10 many years expertise.
Our solution ranges incEPTT:
1) DC Brush motor: 6-130mm diameter, .01-1000W output EPTT
two) DC Spur Equipment EPTT: 12-110mm diameter, .1-300W output EPTT
3) DC Planeary Equipment EPTT: ten-82mm diameter, .1-100W output EPTT
4) Brushless DC EPTT: 28-110mm, 5-1500W output EPTT
five) Stepper EPTT: NEMA 08 to NEMA forty three, Can with EPTT and direct screw
6) Servo EPTT: 42mm to 130mm diameter, fifty-4000w
7) AC Gear EPTT: forty nine to 100mm diameter, 6-140 output EPTT

Production EPTT
Certifications
Consumer Visit and Truthful

FAQ
Q: What is your major items?
A:We currently create Brushed Dc EPTTs, Brushed Dc EPTT EPTTs, Planetary Dc Gear EPTTs, Brushless Dc EPTTs, Stepper motors and Ac EPTTs and many others. You can check the specs for above motors on our site and you can electronic mail us to advocate required motors for every your specification as well.
Q:How to choose a appropriate motor?
A:If you have motor photos or drawings to present us, or you have thorough specs like voltage, pace, torque, motor dimension, functioning mode of the motor, needed daily life time and sounds amount and so on, make sure you do not hesitate to permit us know, then we can suggest suitable motor for each your request appropriately.
Q: Do you have EPT support for your stXiHu (West Lake) Dis.Hu (West Lake) Dis.rd motors?
A:Sure, we can customise for each your request for the voltage, pace, torque and shaft dimensions/shape. If you want further wires/cables soldered on the terminal or need to add connectors, or capacitors or EMC we can make it way too.
Q:Do you have specific layout service for motors?
A:Of course, we would like to design motors separately for our buyers, but it may possibly need some mould demand and design demand.
Q:Can I have samples for tests initial?
A:Yes, undoubtedly you can. After verified the required motor specs, we will quotation and supply a proforma bill for samples, as soon as we get the payment, we will get a Move from our account division to commence samples accordingly.
Q:How do you make certain motor high quality?
A:We have our very own inspection processes: for incoming resources, we have signed sample and drawing to make certain qualified incoming resources for generation approach, we have tour inspection in the process and ultimate inspection to make positive experienced products just before delivery.
Q:What is actually your lead time?
A:EPTTly sEPTTing, our typical stXiHu (West Lake) Dis.Hu (West Lake) Dis.rd solution will want 25-30days, a little bit EPTTer for EPT items. But we are very fleXiHu (West Lake) Dis.ble on the guide time, it will relies upon on the specific orders
Q:What is actually your payment term?
A:For all our new buyers, we will want forty% deposite, 60% paid just before shipment.
Q:When will you reply after acquired my inquiries?
A:We will response within 24 several hours as soon as get your inquires.
Q:How can I EPTT you to make positive my income is risk-free?
A:We are qualified by the third social gathering SGS and we have exported to above eighty five countries up to June.2017. You can examine our status with our present customers in your region (if our customers do not mind), or you can orEPTTvia alibaba to get trade assurance from alibaba to make certain your funds is risk-free.
Q:What's the bare minimum orEPTTquantity?
A:Our minimal orEPTTquantity depends on different motor types, make sure you e mail us to check. Also, we typically do not acknowledge personalized use motor orders.
Q:What is your shipping and delivery strategy for motors?
A:For samples and offers considerably less than 100kg, we typically suggest categorical transport For hefty offers, we usually suggest air shipping and delivery or sea delivery. But it all relies upon on our customers' wants.
Q:What certifications do you have?
A:We presently have CE and ROSH certifications.
Q:Can you send out me your price tag checklist?
A:Considering that we have hundreds of various merchandise, and value may differ per different specifications, we are not in a position to provide a price tag list. But we can quote inside of 24 hours after got your inquirues to make positive you can get the value in time.
Q:Can I pay a visit to your company?
A:Yes, welcome to visit our firm, but please permit us know at lEPTT two months EPTT to support us make sure no other conferences during the working day you check out us.
Many thanks!
Contact Us
HangEPTT EPTT EPTT Co.,Ltd
Get in touch with Man or woman: Celia Chen

Any e-mail or trademanager inquires will be replied within 24 hrs.
Typical samples can be offer you quite quickly(inside 10 times)
Customized services for sort of motor accoring to your prerequisite
Skilled Tchnical help and Following-sale service
Sourcing motor components like EPTTs, encoders, cables, connectors and so on