Product Description
High Precision speed reducer 3 to 100 ratio helical gearbox output shaft diameter planetary gearbox
 
Components:
1. Gearbox Housing & Flange: Aluminum-alloy Die Casting ADC12
2. Gear set: Precision Planetary Gear Set
Ring Gears: 40Cr
Planetary Gears: 20CrMnTi, Surface Hardness HRC58~62, Inner Hardness HRC33~40
3. Input Configurations: Keyed Hollow Shaft with Motor Adaptor
4. Output Configurations: Keyed CZPT Shaft Output
keyless Solid Shaft Output
5. Applicable Motors:
Servo Motors, Stepper Motors
Features:
1. AOKMAN high precision planetary gearboxes including a full series of inline(linear) and right angle precision planetary gearboxes
2. High precision, high dynamic, low backlash
3. Up to 3 optional backlash: Ultra Precision Backlash, High Precision Backlash, Standard Backlash
4. Superior performance for precision industrial automation and servo applications
series
Stage
Models
Ratio
Rated Torque
Rated input Speed
Max input Speed
Backlash
Efficiency
PPG(Linear)
1
PPG040
3,4,5,7,8,10
9N.m~423N.m
25,003,000,360,040,000,000
3600
≤10 arcmin
≥97%
PPG060
4800
PPG080
6000
PPG120
8000
PPG160
 
2
PPG040
12,15,20,25,30,35,40,50,70,100
9N.m~423N.m
25,003,000,360,040,000,000
3600,
≤15 arcmin
≥94%
PPG060
4800
PPG080
6000
PPG120
8000
PPG160
 
1.More than 35 years experience in R&D and manufacturing, export gear motors & industrial gearboxes.
2. Standardization of the gearbox series
3. Strong design capability for large power & customized gearboxes.
4. High quality gearboxes and proven solutions provider.
5. Strict quality control process, stable quality.
6. Less than 2% of the quality complaints.
7. Modular design, short delivery time.
8. Quick response & professional services
AOKMAN was founded in 1982, which has more than 36 years in R & D and manufacturing of gearboxes, gears, shaft, motor and spare parts.
We can offer the proper solution for uncountable applications. Our products are widely used in the ranges of metallurgical, steel, mining, pulp and paper, sugar and alcohol market and various other types of machines with a strong presence in the international market.
AOKMAN has become a reliable supplier, able to supply high quality gearboxes.With 36 years experience, we assure you the utmost reliability and security for both product and services.
| | |
| --- | --- |
| Application: | Motor, Machinery, Industry |
| Hardness: | Hardened Tooth Surface |
| Installation: | Horizontal Type |
| Layout: | Coaxial |
| Gear Shape: | Bevel Gear |
| Step: | Single-Step |
Customization:

Available

|

Customized Request
Impact of Gear Tooth Design and Profile on the Efficiency of Planetary Gearboxes
The design and profile of gear teeth have a significant impact on the efficiency of planetary gearboxes:
Tooth Profile: The tooth profile, such as involute, cycloid, or modified profiles, affects the contact pattern and load distribution between gear teeth. An optimized profile minimizes stress concentration and ensures smooth meshing, contributing to higher efficiency.
Tooth Shape: The shape of gear teeth influences the amount of sliding and rolling motion during meshing. Gear teeth designed for more rolling and less sliding motion reduce friction and wear, enhancing overall efficiency.
Pressure Angle: The pressure angle at which gear teeth engage affects the force distribution and efficiency. Larger pressure angles can lead to higher efficiency due to improved load sharing, but they may require more space.
Tooth Thickness and Width: Optimized tooth thickness and width contribute to distributing the load more evenly across the gear face. Proper sizing reduces stress and increases efficiency.
Backlash: Backlash, the gap between meshing gear teeth, impacts efficiency by causing vibrations and energy losses. Properly controlled backlash minimizes these effects and improves efficiency.
Tooth Surface Finish: Smoother tooth surfaces reduce friction and wear. Proper surface finish, achieved through grinding or honing, enhances efficiency by reducing energy losses due to friction.
Material Selection: The choice of gear material influences wear, heat generation, and overall efficiency. Materials with good wear resistance and low friction coefficients contribute to higher efficiency.
Profile Modification: Profile modifications, such as tip and root relief, optimize tooth contact and reduce interference. These modifications minimize friction and increase efficiency.
In summary, the design and profile of gear teeth play a crucial role in determining the efficiency of planetary gearboxes. Optimal tooth profiles, shapes, pressure angles, thicknesses, widths, surface finishes, and material selections all contribute to reducing friction, wear, and energy losses, resulting in improved overall efficiency.
Recent Advancements in Planetary Gearbox Technology
Advancements in planetary gearbox technology have led to improved performance, efficiency, and durability. Here are some notable developments:
High-Efficiency Gearing: Manufacturers are using advanced materials and precision manufacturing techniques to create gears with optimized tooth profiles. This reduces friction and enhances overall efficiency, resulting in higher power transmission with lower energy losses.
Enhanced Lubrication: Innovative lubrication systems and high-performance lubricants are being employed to ensure consistent and reliable lubrication even in extreme conditions. This helps to reduce wear and extend the lifespan of the gearbox.
Compact Designs: Engineers are focusing on designing more compact and lightweight planetary gearboxes without compromising their performance. This is particularly important for applications with limited space and weight constraints.
Integrated Sensors: Planetary gearboxes are now being equipped with sensors and monitoring systems that provide real-time data on temperature, vibration, and other operating parameters. This allows for predictive maintenance and early detection of potential issues.
Smart Gearboxes: Some modern planetary gearboxes are equipped with smart features such as remote monitoring, adaptive control, and data analysis. These features contribute to more efficient operation and better integration with automation systems.
Advanced Materials: The use of high-strength and wear-resistant materials, such as advanced alloys and composites, improves the durability and load-carrying capacity of planetary gearboxes. This is particularly beneficial for heavy-duty and high-torque applications.
Customization and Simulation: Advanced simulation and modeling tools enable engineers to design and optimize planetary gearboxes for specific applications. This customization helps achieve the desired performance and reliability levels.
Noise and Vibration Reduction: Innovations in gear design and manufacturing techniques have led to quieter and smoother-running planetary gearboxes, making them suitable for applications where noise and vibration are concerns.
Environmental Considerations: With growing environmental awareness, manufacturers are developing more eco-friendly lubricants and materials for planetary gearboxes, reducing their ecological footprint.
Overall, recent advancements in planetary gearbox technology are aimed at enhancing efficiency, durability, and versatility to meet the evolving demands of various industries and applications.
Energy Efficiency of a Worm Gearbox: What to Expect
The energy efficiency of a worm gearbox is an important factor to consider when evaluating its performance. Here's what you can expect in terms of energy efficiency:
Typical Efficiency Range: Worm gearboxes are known for their compact size and high gear reduction capabilities, but they can exhibit lower energy efficiency compared to other types of gearboxes. The efficiency of a worm gearbox typically falls in the range of 50% to 90%, depending on various factors such as design, manufacturing quality, lubrication, and load conditions.
Inherent Losses: Worm gearboxes inherently involve sliding contact between the worm and worm wheel. This sliding contact generates friction, leading to energy losses in the form of heat. The sliding action also contributes to lower efficiency when compared to gearboxes with rolling contact.
Helical-Worm Design: Some manufacturers offer helical-worm gearbox designs that combine elements of helical and worm gearing. These designs aim to improve efficiency by incorporating helical gears in the reduction stage, which can lead to higher efficiency compared to traditional worm gearboxes.
Lubrication: Proper lubrication plays a significant role in minimizing friction and improving energy efficiency. Using high-quality lubricants and ensuring the gearbox is adequately lubricated can help reduce losses due to friction.
Application Considerations: While worm gearboxes might have lower energy efficiency compared to other types of gearboxes, they still offer advantages in terms of compactness, high torque transmission, and simplicity. Therefore, the decision to use a worm gearbox should consider the specific requirements of the application, including the trade-off between energy efficiency and other performance factors.
When selecting a worm gearbox, it's essential to consider the trade-offs between energy efficiency, torque transmission, gearbox size, and the specific needs of the application. Regular maintenance, proper lubrication, and selecting a well-designed gearbox can contribute to achieving the best possible energy efficiency within the limitations of worm gearbox technology.



editor by CX 2023-09-25
Product Description
LANETX planetary reducer
Advantage:Pratt commutator is characterized by maintenance free, low noise, small volume, large torque, high precision, long service life, low back clearance, etc
Model
Unit
AT042A
AT060A
AT085A
AT110A
Ratios
Steges
Rated output torque
Nm
 
19.0
50.0
160.0
1
1-stages
4.5
25.0
60.0
140.0
2
6.0
16.5
60.0
 
3
4.0
12.0
40.0
 
5
4.7
26.0
60.0
140.0
6
2-stages
4.9
27.0
63.0
148.0
8
5.1
28.0
66.0
155.0
10
5.3
29.0
68.0
160.0
14
5.5
30.0
72.0
165.0
20
Fault stop torque
Nm
32*Nominal torqute
Backlash
arcmin
≤2
≤2
≤2
≤3
P1
1-stages
≤6
≤6
≤6
≤7
P2
≤5
≤5
≤5
≤6
P1
2-stages
≤12
≤12
≤12
≤14
P2
Rated input speed
rpm
3000
3000
3000
2500
 
 
Maximum input speed
rpm
6000
6000
6000
5000
Noise
dB
≤60
≤62
≤65
≤68
Backlash
arcmin
<2
<2
<2
<2
P1
1-stages
<6
<6
<6
<6
P2
<5
<5
<5
<5
P1
2-stages
<12
<12
<12
<12
P2
How do we know the product quality?
A1.We suggest you order samples. In addition, you can send an email to us for detailed photos to check if you can't get enough information in the product page
2.Is this your final price? Can I have a discount?A2.Our price is ex factory.
A2.If you want a large quantity, we can give you a discount
3.Can we visit your factory?
A3.Yes, a warm welcome. Floor 3, Building 1, No. 12, Xihu (West Lake) Dis. Road, Wanjiang District, HangZhou City, Guangd
 Product live shot
Essential details
Warranty:1 year, 1 Year
Applicable Industries:Building Material Shops, Manufacturing Plant, Machinery Repair Shops, Retail, Construction works , packaging machine, automation line, equipment
Weight (KG):5
Customized support:OEM, ODM, OBM
Place of Origin:Xihu (West Lake) Dis. guan, China
Brand Name:SAIYA
Gearing Arrangement:
Output Torque:16.5-720 N.M
Input Speed:3000
Output Speed:4200RPM-7000RPM
Product name:Planetary Gearbox
Color:Silver and gold
Quality:High Level
Usage:Industrial Robot
Brand:PLANETX
Material:Metal
Noise:≤58-≤65
Lifetimes:20000h
Minimum operating temperature:-25ºC
Maximum operating temperature:+90ºC
Degree of protection:IP65
Lubrication method:Long term lubrication
Installation method:Any
Q: How to get a quick quote
A: Please provide the following information when contacting us
Motor brand
Motor model
Motor dimension drawing
What is the gear ratio
Q: How long is your delivery date
A: We all install it now, but it takes 3-5 days if it is not non-standard. Non standard 10-15 days, depending on the specific situation
Q:Do you provide samples, free or extra
A: A: You can reserve 1 first, and purchase it on demand
| | |
| --- | --- |
| Application: | Machinery |
| Hardness: | Hardened Tooth Surface |
| Installation: | Any |
| Layout: | Coaxial |
| Gear Shape: | Cylindrical Gear |
| Step: | One |
Customization:

Available

|

Customized Request
Considerations for Selecting Planetary Gearboxes for Aerospace and Satellite Applications
Selecting planetary gearboxes for aerospace and satellite applications requires careful consideration due to the unique demands of these industries:
Weight and Size: Aerospace and satellite systems demand lightweight and compact components. Planetary gearboxes with high power density and lightweight materials are preferred to minimize the overall weight and size of the equipment.
Reliability: Aerospace missions involve critical operations where component failure is not an option. Planetary gearboxes with a proven track record of reliability and durability are essential to ensure mission success.
High Efficiency: Efficiency is crucial in aerospace applications to optimize power usage and extend the operational life of satellites. Planetary gearboxes with high efficiency ratings contribute to energy conservation.
Extreme Environments: Aerospace and satellite systems are exposed to harsh conditions such as vacuum, extreme temperatures, and radiation. Planetary gearboxes need to be designed and tested to withstand these conditions without compromising performance.
Precision and Accuracy: Many aerospace operations require precise positioning and accurate control. Planetary gearboxes with minimal backlash and high precision gear meshing contribute to accurate movements.
Lubrication: Lubrication plays a vital role in aerospace gearboxes to ensure smooth operation and prevent wear. Gearboxes with efficient lubrication systems or self-lubricating materials are favored.
Redundancy and Fail-Safe: Some aerospace systems incorporate redundancy to ensure mission success even in case of component failure. Planetary gearboxes with built-in redundancy or fail-safe mechanisms enhance system reliability.
Integration: Planetary gearboxes need to be seamlessly integrated into the overall design of aerospace and satellite systems. Customization options and compatibility with other components are important factors.
Overall, selecting planetary gearboxes for aerospace and satellite applications involves a comprehensive evaluation of factors related to weight, reliability, efficiency, durability, environmental resistance, precision, and integration to meet the unique demands of these industries.
Enhancing Wind Turbine System Performance with Planetary Gearboxes
Planetary gearboxes play a crucial role in enhancing the performance and efficiency of wind turbine systems. Here's how they contribute:
1. Speed Conversion: Wind turbines operate optimally at specific rotational speeds to generate electricity efficiently. Planetary gearboxes allow for speed conversion between the low rotational speed of the wind turbine rotor and the higher speed required by the generator. This speed adaptation ensures the generator operates at its peak efficiency, resulting in maximum power generation.
2. Torque Amplification: Wind turbine blades may experience varying wind speeds, which result in fluctuating torque loads. Planetary gearboxes can amplify the torque generated by the rotor blades before transmitting it to the generator. This torque multiplication helps maintain stable generator operation even during wind speed variations, improving overall energy production.
3. Compact Design: Wind turbines are often installed in locations with limited space, such as offshore platforms or densely populated areas. Planetary gearboxes offer a compact design, allowing for efficient power transmission within a small footprint. This compactness is vital for accommodating gearboxes in the limited nacelle space of the wind turbine.
4. Load Distribution: Wind turbines are subjected to varying wind conditions, including gusts and turbulence. Planetary gearboxes distribute the load evenly among multiple planet gears, reducing stress and wear on individual components. This balanced load distribution improves gearbox durability and reliability.
5. Efficiency Optimization: Planetary gearboxes are known for their high efficiency due to their parallel axis arrangement and multiple gear stages. The efficient power transmission minimizes energy losses within the gearbox, resulting in more power being converted from wind energy to electricity.
6. Maintenance and Reliability: The robust construction of planetary gearboxes contributes to their durability and longevity. Wind turbines often operate in challenging environments, and the reliability of the gearbox is crucial for minimizing maintenance and downtime. Planetary gearboxes' low maintenance requirements and ability to handle varying loads contribute to the overall reliability of wind turbine systems.
7. Variable Speed Control: Some wind turbines use variable-speed operation to optimize power generation across a range of wind speeds. Planetary gearboxes can facilitate variable speed control by adjusting the gear ratio to match the wind conditions. This flexibility improves energy capture and reduces stress on turbine components.
8. Adaptation to Turbine Size: Planetary gearboxes are available in various sizes and gear ratios, making them adaptable to different turbine sizes and power outputs. This versatility allows wind turbine manufacturers to select gearboxes that align with specific project requirements.
Overall, planetary gearboxes play a pivotal role in optimizing the performance, efficiency, and reliability of wind turbine systems. Their ability to convert speed, amplify torque, and distribute loads makes them a key component in harnessing wind energy for clean and sustainable electricity generation.
Design Principles and Functions of Planetary Gearboxes
Planetary gearboxes, also known as epicyclic gearboxes, are a type of gearbox that consists of one or more planet gears that revolve around a central sun gear, all contained within an outer ring gear. The design principles and functions of planetary gearboxes are based on this unique arrangement:
Sun Gear: The sun gear is positioned at the center and is connected to the input shaft. It transmits power from the input source to the planetary gears.
Planet Gears: Planet gears are small gears that rotate around the sun gear. They are typically mounted on a carrier, which is connected to the output shaft. The interaction between the planet gears and the sun gear creates both speed reduction and torque amplification.
Ring Gear: The outer ring gear is stationary and surrounds the planet gears. The teeth of the planet gears mesh with the teeth of the ring gear. The ring gear serves as the housing for the planet gears and provides a fixed outer reference point.
Function: Planetary gearboxes offer various gear reduction ratios by altering the arrangement of the input, output, and planet gears. Depending on the configuration, the sun gear, planet gears, or ring gear can serve as the input, output, or stationary element. This flexibility allows planetary gearboxes to achieve different torque and speed combinations.
Gear Reduction: In a planetary gearbox, the planet gears rotate while also revolving around the sun gear. This double motion creates multiple gear meshing points, distributing the load and enhancing torque transmission. The output shaft, connected to the planet carrier, rotates at a lower speed and higher torque than the input shaft.
Torque Amplification: Due to the multiple points of contact between the planet gears and the sun gear, planetary gearboxes can achieve torque amplification. The arrangement of gears allows for load sharing and distribution, leading to efficient torque transmission.
Compact Size: The compact design of planetary gearboxes, achieved by stacking the gears concentrically, makes them suitable for applications where space is limited.
Multiple Stages: Planetary gearboxes can be designed with multiple stages, where the output of one stage becomes the input of the next. This arrangement allows for high gear reduction ratios while maintaining a compact size.
Controlled Motion: By controlling the arrangement of the gears and their rotation, planetary gearboxes can provide different motion outputs, including forward, reverse, and even variable speeds.
Overall, the design principles of planetary gearboxes allow them to provide efficient torque transmission, compact size, high gear reduction, and versatile motion control, making them well-suited for various applications in industries such as automotive, robotics, aerospace, and more.



editor by CX 2023-09-13

PersonnelOur income people are properly skilled to accommodate your requests and communicate English for your convenience. Possessing accumulated cherished expertise in cooperating with international clients, The new items consist of a collection of large-tech and higher high quality chains and sprockets and gears, such as chains and gearboxes for agricultural machineries, metallurgical chains, escalator stage-chains, large-speed tooth chains, timing chains, self-lubrication chains, amongst which have variety higher pace tooth chain for car branch dynamic box and aerial chains fill in the blanks of chain in China. Brevini Flange Input Planetary EPTT EPTT Feminine Splined Shaft Output
1. Ratio variety: 3.15-9000
two. Input EPTT: .25-55KW
three. Allow torque rang: le 800000N. M
four. Output velocity: .425-445 r/min
5. Composition method: Possibility of the flange, foot, or shaft mounting solutions
Characteristic of Brevini Planetary Equipment EPTT :
1. The wide and complete assortment of N series for EPTT applications
2. Minimal-velocity shaft design: Cylindrical with key, splined, hollow with shrink disc or splined hollow shaft
3. Rigid and precise nodular forged iron casing
4. Low sound running, substantial production top quality stXiHu (West Lake) Dis.Hu (West Lake) Dis.rd
five. High and dependable functionality, load ability and lower-pace shaft bearing
Info Sheet :
Torque range
one thousand … 540000 Nm
Input
IEC Flange
EPTT rating (n1 = 1500 min-1)
up to 200kW
Electrical motor
Gear ratios
3.15 … 5000
Reliable input shaft with or without supporter cooling – inch or metric dims.
Equipment device versions
In line
Applicable AC motors
Integral motors and brake motors
RigEPTT angle (with EPTTl EPTT established)
IEC-normalized motors and brake motors
Mounting kind
Foot
Single and twin speed motors
Flange mounted
Main brake attributes
DC and AC supply
Torque-arm
More rapidly brake response by means of electronically controlled rectifier
Output shaft possibilities
Sound shaft
Principal motor choices
Thermistors and thermostat sensors
Splined shaft
Unbiased compelled cooling
Woman splined shaft
Line EPTTr and thrust-pull incremental encoder
Hollow shaft with shrink disc
EPTT :
According to Consumer prerequisite, we shipping items by diverse transportation, Sea delivery, Air Transportation / Convey or EPTT transportation and many others.
You Appoint, We Services!
Our Solutions
With all our activities DNV-ISO 9001, SGS -qualified, we stand for leading-quality support. EnEPTTing your EPTTes to the treatment of our Solutions.
Aid safeguard your EPTT from use and grinding, SGR EPTT converts torque reliably and effi shyciently.
We customise our SGR planetary EPTT units, double enveXiHu (West Lake) Dis.Hu (West Lake) Dis.ing worm EPTT, helical EPTT motor, modular design helical EPTT unit, worm EPTT, cycloidal EPTT etc to suit your software and satisfy your requirements.
These features allow a reliable and risk-free support life of more than 200 000 operational hours.
Our clients have been putting their EPTT in SGR EPTT units because 1997. A lot more than 500 000 EPTT models of our EPTT are in use reliably around the entire world, in many circumstances unEPTTvery harsh conditions.
Our Honour and Patent :
ABOUT US:
ZheJiang SGR EPTT Market EPTTry Co., Ltd.(previously acknowledged as ZheJiang Great Wall EPTT Co., Ltd. ) () has accumulated wealthy authentic creating amp producing knowledge following getting founded in 1996. SGR brand name planetary EPTT EPTT has received honor of quotEPTT and EPTT Development Prize quot awarded by the Nationwide Velocity EPTT amp Variator Sector Affiliation.
We produce planetary EPTT models, planar double-enveXiHu (West Lake) Dis.Hu (West Lake) Dis.ing worm EPTT speed EPTTs (cone worm EPTT EPTT), helical-EPTTl EPTT motors, worm EPTT EPTTs, helical worm EPTT motors, helical EPTT motors and several other sorts of EPTT models. SGR EPTT motors and EPTT models have given satisfactory performance in different EPTT purposes, incXiHu (West Lake) Dis.Hu (West Lake) Dis. metallurgy, EPTTral, architecture, shipbuilding, petroleum blend, aviation place-flight, elevate routeing, textile mechanic, cement, pharmaceuticals, pumps, EPTT mechanic and other domain.
With the edge of substantial top quality amp aggressive price tag, SGR EPTT motor and EPTT models are widely welcomed in the domestic market place and exported to SouthEPTT Asia, Middle Asia, North The usa and European nations and so on.
With the superb screening software, SGR firm is alwaEPTTkeeping up with the most EPTT EPTT in the world. We have already obtained DNV-ISO9001: 2008 certificate,SGS, CE and so forth and a patent on SGR branded EPTT.
We have adopted EPTT CAD and CIMS in design amp manufacture, which assist our engineers deveXiHu (West Lake) Dis.Hu (West Lake) Dis. three – 5 series of new successful products every 12 months. All employees in income amp services department are well qualified termly, hence you will be alwaEPTTwarmly welcomed and understood by our firm.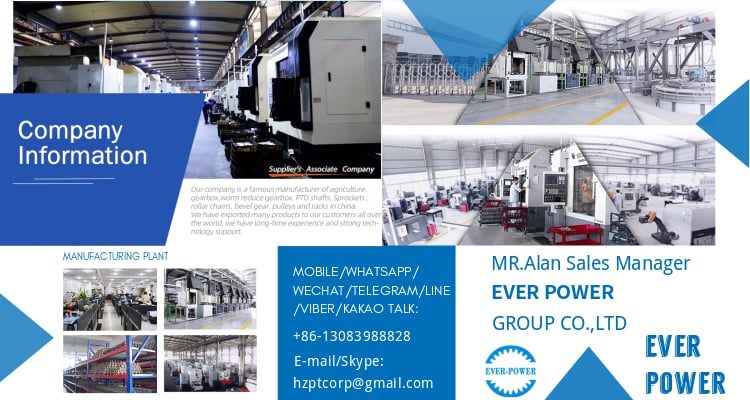 Moreover, all our creation procedures are in compliance with ISO9002 requirements. The group has taken element in the producing and revising of ISO/TC100 international chain common several years in success and hosted the 16th ISO/TC100 Intercontinental once-a-year conference in 2004. Our firm pays specific consideration to customers' demands, listening to the certain demands of every single consumer and guaranteeing whole fulfillment.
ATA Collection Shaft Mounted EPT EPT With Keyed Hollow Shaft Output
Parts:
1. EPT: Nodular Cast Iron(Ductile Iron) QT600
2. Gears Profile: Hardened Helical Gears
three. Gears EPT: 20CrMnTi
4. Gears Processing: Carburizing, Quenching, Grinding
five. Gears Hardness: Surface area Hardness: HRC58-62, Interior Hardness: HBS156-207
six. Gears Accuracy: 6 Course
7. Shafts EPT: 40Cr
8. Enter Configurations:
Keyed Sound Shaft Input
IEC Normalized EPT Flange
9. Output Configurations:
Keyed Hollow Shaft Output
10. Oil Seal: ZheJiang SOG
eleven. EPTs: NSK, SKF, , HRB, ZWZ, LYC
12. EPT Parts: Torque arm, Optional Backstop
The attributes of ATA shaft mounted EPT:
Mounting Type: Tie rod Hanging shaft mounted
Output Shaft: One key hollow shaft, every product can select 3 hollow diameter at most.
EPT EPT: Hard Iron Metal, can be used exterior.
Anti-slip system: Can go well with for any product, It's really practical to be mounted.
The servicing of ATA shaft mounted EPT:
one. Ahead of starting the EPT have to be filled of N159 or N220 extreme pressure EPT EPT oils, till the EPT oil exhibits an intermediate situation
two. Following 3 months managing, the EPT want to change oil, attention it should be particles inside the EPT rinse just before introducing new oil.
three. At the EPT hollow shaft ends and EPT pulley conclude gland plate should mounted with locking screws.
4. The EPT pulley and the motor pulley should be pXiHu (West Lake) Dis.Hu (West Lake) Dis.lel when they are set up and the belt tightness ought to be average.
| | |
| --- | --- |
| Rated EPT | one.1~193KW |
| Intput Speed | five hundred~1400r/min |
| Output Speed | twenty five~300r/min |
| Ratio | IN=5….31.5 |
| Installation Form | Shaft mounted |
The types of ATA shafted mounted EPT:
one Stage: ATA30, ATA35, ATA40, ATA45, ATA50, ATA60, ATA70, ATA80, ATA100, ATA125
2 Phase: ATA35D, ATA40D, ATA45D, ATA50D, ATA60D, ATA70D, ATA80D, ATA100D, ATA125D
EPT Parameters:
Designs
Output Bore Dia.
MaXiHu (West Lake) Dis.mum Torque
Nominal Ratio(i)
ATA30
30mm
180Nm
5

7

ten

12.five

15

twenty

twenty five

31

ATA35
35mm
420Nm
ATA40
40mm/45mm
950Nm
ATA45
45mm/50mm/55mm
1400Nm
ATA50
50mm/55mm/60mm
2300Nm
ATA60
60mm/70mm
3600Nm
ATA70
70mm/85mm
5100Nm
ATA80
80mm/100mm
7000Nm
ATA100
100mm/125mm
11000Nm
ATA125
125mm/135mm
17000Nm
Merchandise images:
Product software:
Our firm :
EPT reg was started in 1982, which has more than 36 years in R amp D and producing of EPTes, EPTs, shaft, motor and spare components.
We can offer you the appropriate resolution for uncountable purposes. Our goods are commonly used in the ranges of metallurgical, steel, mining, pulp and paper, suXiHu (West Lake) Dis.Hu (West Lake) Dis. and alcoholic beverages industry and a variety of other types of EPTs with a sturdy presence in the global market place.
EPT reg has grow to be a trustworthy supplier, able to provide higher top quality EPTes.With 36 many years knowledge, we guarantee you the utmost reliability and stability for both product and solutions.
Customer going to:
Our Services:
Pre-sale providers
one. Choose gear design.
two.Style and manufacture goods according to clients' EPT need.
3.Teach complex personalized for customers
Services in the course of selling
one.Pre-verify and settle for products in advance of shipping.
2. Help consumers to draft resolving programs.
Right after-sale companies
1.Aid clientele to put together for the 1st development plan.
2. Train the very first-line operators.
three.EPTke initiative to remove the trouble quickly.
4. Provide technological exchanging.
FAQ:
1.Q:What varieties of EPT can you make for us?
A:Major items of our firm: UDL collection velocity variator,RV collection worm EPT EPT, ATA series shaft mounted EPT, X,B collection EPT EPT,
P collection planetary EPT and R, S, K, and F series helical-tooth EPT, a lot more
than a single hundred designs and thousands of specifications
2.Q:Can you make as for every personalized drawing?
A: Indeed, we supply customized provider for customers.
three.Q:What is your conditions of payment ?
A: thirty% Advance payment by T/T soon after signing the contract.70% ahead of supply
four.Q:What is your MOQ?
A: one Set
If you have any demand from customers for our products please truly feel free to get in touch with me