Product Description
PROFESSIONAL MANUFACTURE
— SINCE 1995
Hydraulic Motor Planetary Gear Speed Reducer Gearbox for Mill
Chinese electric motor speed reducer is widely used in mining machinery, chemical industry,steel metallurgy, light
industry,environmental protection, paper making, printing, lifting transport, food industry and so on.
Main Series Product: R series helical gear motor reducer, K series spiral bevel gear reducer, NGW, P series planetary gear reducer, H B series helical gearbox, Z (ZDY, ZLY, ZSY, and ZFY) serial hard tooth surface cylindrical gearbox reducer, D (DBY and DCY) serial hard tooth surface cone gear reducer, cycloidal speed reducer, etc. Meanwhile, map sample processing business can be undertaken.
Product Description
Adopts modular design, which can be changed and combined according to customer requirements;
Adopts involute planetary gear transmission, uses internal and external meshing and power splitting;
The gears are all treated by carburizing and quenching to obtain a high-hard wear-resistant surface.
After heat treatment, the gears are all ground, which reduces noise and improves the efficiency and service life of the whole machine.
Light weight, small volume, large transmission ratio range, high efficiency, stable operation, low noise and strong adaptability.
Product Parameters
Size

Type

Transmission Ratio

Type

Transmission Ratio

 

 

9/10/11/12/13/14/
15/16/17/18/19/20
/21/22/23/24/25/26
/27/28/29/30/31/
32/33/34

P2NA/P2NB/
P2NC/P2ND

25/28/31.5/40

P3NA/P3NB/P3NC/P3ND

140/160/180/
200/225/250/280

N=Coaxial

S=Helical gear

L=Bevel gear

K=Bevel-helical A=Hollow shaft with shrink disc

B=Solid shaft with parallel key

C=Hollow shaft with involute splines

D=Solid shaft with involute splines

P2SA/P2SB/
P2SC/P2SD

45/50/56/63
/71/80/90/100/
112/125

P3SA/P3SB/P3SC/P3SD

280/315/355/400
/450/500/560/630/
710/800/900

P2LA/P2LB/
P2LC/P2LD

31.5/40/45/50
/56/63/71/80
/90/100

P3KA/P3KB/P3KC/P3KD

560-4000

P2KA/P2KB/
P2KC/P2KD

112/125/140/160/
180/200/
225/250/320/360/
400/450/500/560
Model selection for washing machine Gear Box Transmission:
Closely using the ideal reduction ratio.
Reduction ratio = servo motor speed / reducer output shaft speed
Torque calculation: Torque calculation is very important for the life of reducer, and pay attention to whether the maximum torque value (TP) of acceleration exceeds the maximum load torque of the reducer.
The applicable power is usually the applicable power of the servo models on the market, the applicability of the reducer is very high, the working coefficient can be maintained above 1.2, but the choice can also be based on their own needs to decide. industrial helical gearbox. 
Detailed Photos
Chinese Speed Reducer/industrial helical gearbox is a mechanical transmission in many fields of the national economy. The product categories covered by the industry include all kinds of gear reducer, planetary gear reducer and worm reducer, as well as various special transmission devices such as speed increasing device, speed control Devices, including various types of flexible transmission devices, such as compound transmission. Products and services in the field of metallurgy, nonferrous metals, coal, building materials, ships, water conservancy, electricity, construction machinery and petrochemical industries.
In all fields of national economy and national defense industry, gearbox products have a wide range of applications. Food light industry, electric machinery, construction machinery, metallurgy machinery, cement machinery, environmental protection machinery, electronic appliances, road construction machinery, water conservancy machinery, chemical machinery, mining machinery, conveyor machinery, building materials machinery, rubber machinery, petroleum machinery and other industries have strong demand of Reducer products.

Packaging & Shipping
Application
Driven machines
Waste water treatment
Thickeners,filter presses,flocculation apparata,aerators,raking equipment,combined longitudinal and rotary rakes,pre-thickeners,screw pumps,water turbines,centrifugal pumps
Dredgers
Bucket conveyors, dumping devices, carterpillar travelling gears, bucket wheel excavators as pick up, bucket wheel excavator for primitive material, cutter head, traversing gears
Chemical industry
Plate bending machines, extruders, dough mills, rubbers calenders, cooling drums, mixers for uniform media, agitators for media with uniform density, toasters, centrifuges
Metal working mills
plate tilters, ingot pushers, winding machines, cooling bed transfer frames, roller straigheners, table continuous intermittent, roller tables reversing tube mills, shears continuous, casting drivers, reversing CZPT mills
Metal working mills
Reversing slabbing mills. reversing wire mills, reversing sheet mills, reversing plate mill, roll adjustment drives
Conveyors
Bucket conveyors, hauling winches, hoists, belt conveyors, good lifts, passenger lifts, apron conveyors, escalators, rail travlling gears
Frequency converters
Reciprocating compressors
Cranes
Slewing gears, luffing gears, travelling gears, hoisting gear, derricking jib cranes
Cooling towers
Cooling tower fans, blowers axial and radial
Cane sugar production
Cane knives, cane mills
Beet sugar production
Beet cossettes macerators, extraction plants, mechanical refrigerators, juice boilers, sugar beet washing machines, sugar beet cutter
Paper machines
Pulper drives
Cableways
Material ropeways, continuous ropeway
Cement industry
Concrete mixer, breaker, rotary kilns, tube mills, separators, roll crushers
 
 
Company Profile
Established in 1995 , HangZhou Boji Machinery is a professional manufacturer and exporter that is concerned with the design, development and production of Gearbox Speed Reducer. We are located in HangZhou of ZheJiang Province, with convenient transportation access. With our own brand "TianQi", all of our products comply with international quality standards and are greatly appreciated in a variety of different markets throughout the world.
Our company possesses complete machining center, lathe, gear shaping machine, gear milling machine, gear grinding machine and assembling lines. Our well-equipped facilities and excellent quality control throughout all stages of production enables us to guarantee total customer satisfaction.
Besides, In 2005,we attained ISO9001 certification. As a result of our high quality products and outstanding customer service, we have gained a global sales network CZPT South America, Saudi Arabia, Vietnam, Pakistan, Philippines, South Africa and other countries and regions.
With rich export experience, high quality products, competitive prices, good service and in-time delivery, we certain that we can meet all of your requirement and exceed your expectations. Our feature is bright with new cooperative relationships with companies from all over the world. We look CZPT to speaking with you to future discuss how we can be of service to you.
FAQ
1. Who are we?
We are the Factory, with over 25 years of production experience, based in ZheJiang , China, start from 1995,sell to Domestic Market(50.00%),Mid East(10.00%),Southeast Asia(10.00%),Western Europe(5.00%),South America(5.00%),Eastern Europe(5.00%),Eastern Asia(5.00%),North America(3.00%),Africa(2.00%),Southern Europe(2.00%),South Asia(2.00%),Central America(1.00%).
2. Can you customize according to our requirements?
Yes, we can design nonstandard products according to customer's drawing and sample.
3.What can you buy from us?
speed reducer,gearbox,gear motor,pump,crusher
4. Why should you buy from us not from other suppliers?
Founded in 1995, with over 20 years of production experience and credibility. With professional engineer team, advanced technology production and skilled workers.Specialized in the production of reducer. Map sample processing business can be undertaken.
5. What services can we provide?
Accepted Delivery Terms: FOB,CFR,CIF,EXW,DDP,DDU,Express Delivery;
Accepted Payment Currency:USD,EUR,JPY,CAD,AUD,HKD,GBP,CNY,CHF;
Accepted Payment Type: T/T,L/C,Credit Card,PayPal,Western Union,Cash;
Language Spoken:English,Chinese,Spanish,Japanese,Portuguese,German,Arabic,French,Russian,Korean,Hindi,Italian
Shipping Cost:

Estimated freight per unit.





To be negotiated
| | |
| --- | --- |
| Application: | Motor, Machinery, Manufacturing Plant |
| Hardness: | Hardened Tooth Surface |
| Installation: | Horizontal Type |
Samples:

US$ 1000/Piece

1 Piece(Min.Order)

|

Order Sample

Hydraulic Motor Planetary Gear Reducer Gearbox
Customization:

Available

|

Customized Request
Challenges and Solutions for Managing Power Transmission Efficiency in Planetary Gearboxes
Managing power transmission efficiency in planetary gearboxes is crucial to ensure optimal performance and minimize energy losses. Several challenges and solutions are involved in maintaining high efficiency:
1. Gear Meshing Efficiency: The interaction between gears can lead to energy losses due to friction and meshing misalignment. To address this, manufacturers use precision manufacturing techniques to ensure accurate gear meshing and reduce friction. High-quality materials and surface treatments are also employed to minimize wear and friction.
2. Lubrication: Proper lubrication is essential to reduce friction and wear between gear surfaces. Using high-quality lubricants with the appropriate viscosity and additives can enhance power transmission efficiency. Regular maintenance and monitoring of lubrication levels are vital to prevent efficiency losses.
3. Bearing Efficiency: Bearings support the rotating elements of the gearbox and can contribute to energy losses if not properly designed or maintained. Choosing high-quality bearings and ensuring proper alignment and lubrication can mitigate efficiency losses in this area.
4. Bearing Preload: Incorrect bearing preload can lead to increased friction and efficiency losses. Precision assembly and proper adjustment of bearing preload are necessary to optimize power transmission efficiency.
5. Mechanical Losses: Various mechanical losses, such as windage and churning losses, can occur in planetary gearboxes. Designing gearboxes with streamlined shapes and efficient ventilation systems can reduce these losses and enhance overall efficiency.
6. Material Selection: Choosing appropriate materials with high strength and minimal wear characteristics is essential for reducing power losses due to material deformation and wear. Advanced materials and surface coatings can be employed to enhance efficiency.
7. Noise and Vibration: Excessive noise and vibration can indicate energy losses in the form of mechanical inefficiencies. Proper design and precise manufacturing techniques c
Contribution of Planetary Gearboxes to Conveyor Belt Efficiency in Mining Operations
Planetary gearboxes play a significant role in enhancing the efficiency of conveyor belts used in mining operations:
High Torque Capability: Planetary gearboxes are capable of providing high torque output, which is essential for handling heavy loads of mined materials on conveyor belts.
Compact Design: The compact nature of planetary gearboxes allows them to be integrated into tight spaces, making them suitable for conveyor systems where space is limited.
Multi-Stage Design: Planetary gearboxes can achieve high gear ratios through multiple stages of gear reduction. This allows for efficient power transmission from the motor to the conveyor, reducing the load on the motor and increasing overall efficiency.
Load Distribution: Planetary gearboxes distribute the load across multiple planet gears, which helps in minimizing wear and ensuring longer lifespan of the gearbox.
Variable Speed Control: By using planetary gearboxes with variable speed capabilities, conveyor belts can be operated at different speeds to match the processing requirements, optimizing material handling and energy consumption.
Overload Protection: Some planetary gearboxes feature built-in overload protection mechanisms, safeguarding the gearbox and conveyor system from damage due to sudden increases in load.
Overall, planetary gearboxes enhance the efficiency, reliability, and performance of conveyor belts in mining operations by providing the necessary torque, compact design, and precise control needed to transport mined materials effectively.
an help minimize noise and vibration, indicating better power transmission efficiency.
8. Efficiency Monitoring: Regular efficiency monitoring through testing and analysis allows engineers to identify potential issues and optimize gearbox performance. This proactive approach ensures that any efficiency losses are promptly addressed.
By addressing these challenges through careful design, material selection, manufacturing techniques, lubrication, and maintenance, engineers can manage power transmission efficiency in planetary gearboxes and achieve high-performance power transmission systems.



editor by CX 2023-08-30
Error:获取session失败,
| | |
| --- | --- |
| Application: | Motor, Machinery |
| Function: | Distribution Power, Change Drive Torque, Speed Reduction |
| Layout: | Coaxial |
| Hardness: | Hardened Tooth Surface |
| Installation: | Horizontal Type |
| Step: | Single-Step |
Samples:

US$ 200/Piece

1 Piece(Min.Order)

|
Request Sample
Customization:

Available

|

Customized Request
How to Select a Planetary Gearbox for Your Applications
You can select the most suitable Planetary Gearbox for your applications after carefully checking the various features. You should also consider secondary features like noise level, corrosion resistance, construction, price, delivery time and service. You should also check if the constructor is available across the world, because some constructors operate faster than others. Some constructors even respond to your requests on the same day, while others deliver each planetary gearbox even if they are out of stock.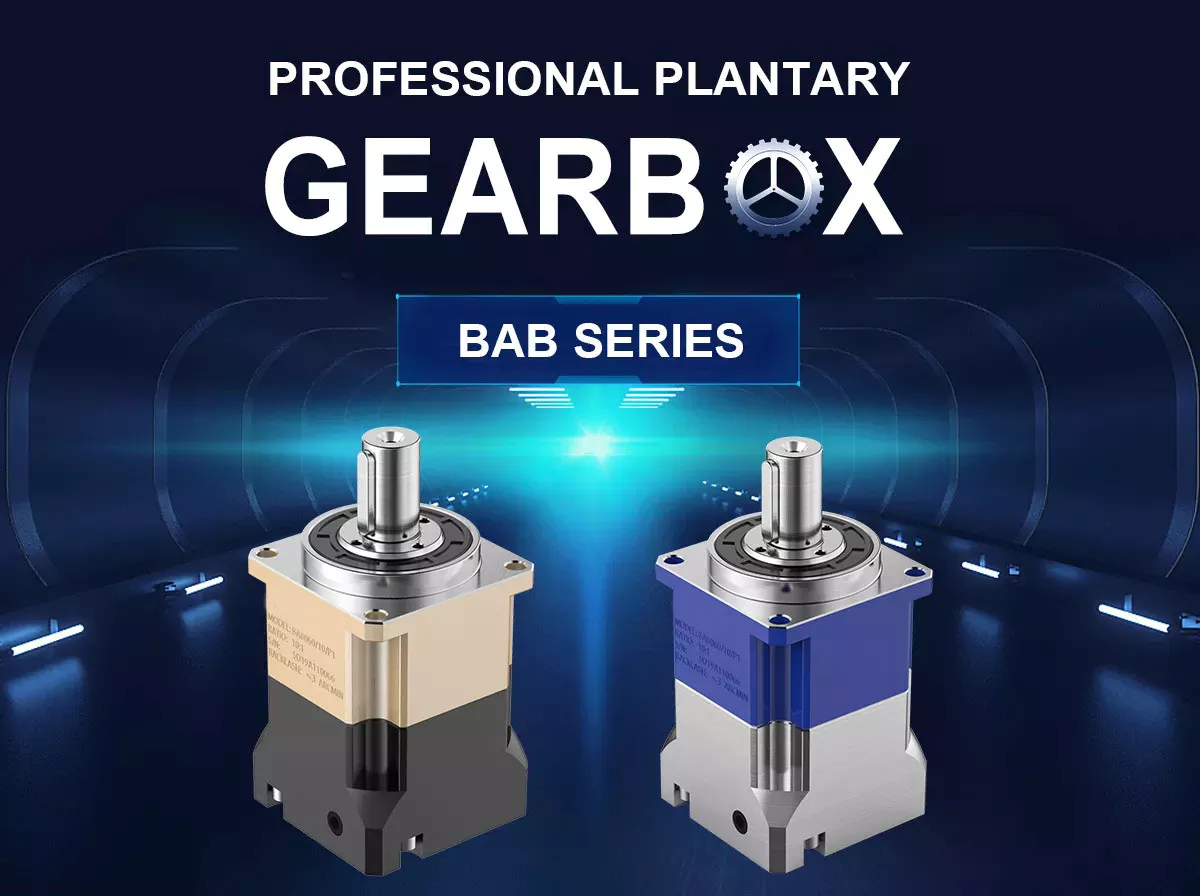 CZPT gearbox
An CZPT planetary gearbox is a high-quality, compact, and lightweight gearbox that distributes loads over several gears. The planetary gearbox has a polymer case that ensures quiet operation. The company is committed to the circular economy, investing in chemical recycling and promoting the use of recycled materials wherever possible. For more information, visit CZPT's website or contact an CZPT expert today.
A planetary gearbox contains a sun gear, which is known as the input gear. The other gears are called planets, and these are mounted on a carrier, which is connected to an output shaft. A planetary gearbox is characterized by its high reduction ratios, energy savings, and compact design. It offers superior durability and trouble-free service. Whether you need a large or small planetary gearbox, you can find one to suit your needs.
The Standard series planetary gearboxes are a cost-effective alternative to premium series gearboxes. These gearboxes are suitable for applications requiring only mild backlash or with low IP65 protection. ABB positioners feature seven different gear unit variants, allowing for standardized mounting and stranded wire connections. The drygear(r) strain wave gear has a stranded wire connector and is available with a three-year warranty.
A planetary gearbox can be used for various applications, from lifting goods to loading and unloading products in a factory. The company has a wide product range for different applications, including plastic machinery and machine tools, pick-and-place robots, mill drives, and wind turbines. It can also be used to operate robot gripper systems. Its high-quality planetary gears are designed to last for many years, making it an ideal solution for many industries.
CZPT
A planetary gearbox is an essential component of many transport systems. These devices work by aligning the output and input shafts. The Reggiana planetary gearbox 2000 series includes bevel stages and linear variants. The company offers modularity and flexibility with output configurations in ten different gear sizes. Each planetary gearbox can also be customized to meet the specific needs of a specific application.
CZPT is the Australian branch of CZPT, a leading global manufacturer of planetary gearboxes. CZPT is located in Carrum Downs, south east of Melbourne, and is one of the leading suppliers of planetary reduction gears, hydraulic failsafe brakes, and wheel drives. The company aims to provide high-quality, durable products that can be used in a variety of applications.
A CZPT Plus Series Gear is designed to maximize flexibility in a variety of applications. The gearbox's modular design allows for endless scalability. The CZPT Plus Series Gear is commonly used in mining operations, and is known for its raw output capabilities and low maintenance design. It is made with high-quality materials, and it is also available in multiple sizes for customized applications.
The multi-stage planetary gearbox can combine individual ratios to increase the overall multiplicative factor. The planetary gears may also be combined to increase the transmittable torque. The output shaft and drive shaft may rotate in opposite directions, or they can be fixed so the gearbox can function in either direction. If the ring gear is fixed, planetary gearboxes can be realized as multi-stage.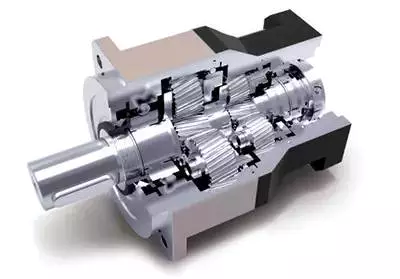 CZPT
The CZPT Planetary Gearbox is the perfect combination of compact size and high efficiency in power transmission. The compact design allows this gearbox to run silently while still delivering high power density and transmission efficiency. The CZPT Planetary Gearbox has several advantages. Unlike conventional planetary gearboxes, CZPT's planetary gearbox features high power density, low torque, and optimum transmission efficiency.
CZPT's products have been used in a variety of applications for many years, proving their reliability and quality. These products are renowned in the world for their reliability and quality. CZPT's planetary gearboxes are backed by a five-year warranty. These features help customers choose a planetary gearbox that meets their needs and stays in top shape for years to come. But how do you test a planetary gearbox?
Figure 17 shows the response of a planetary gearbox to vibration. The maximum displacement in xg direction at a 50% crack level is shown by the dashed line. The signal in xg direction is called the xsignal. Moreover, the CZPT Planetary Gearbox's vibration response is highly sensitive to the location of the bearings. For this reason, dynamic modeling of a planetary gearbox should consider bearing clearance.
CZPT's hollow cup motor drive system features high reliability and low power consumption. The gearbox is compatible with industries with high quality standards, as there is no cogging torque. Its compact size and low electromagnetic noise make it ideal for a variety of applications. For industries with high product quality requirements, the CZPT Hollow Cup Motor Drive System is an excellent choice. It is also designed for vertical installation. You can even buy multiple CZPT products to meet your specific needs.
CZPT
With its PL series planetary gearboxes, CZPT has expanded its product portfolio to include more types of drive solutions. CZPT is one of the few companies to have won the Schneider Electric Supplier Award for Quality. In addition, its high-quality planetary gearboxes are highly customizable, allowing designers to customize each gearbox for the application at hand. Whether it is a geared pump or a stepper motor, CZPT's PLE planetary gearboxes are built to meet the exact specifications of the application at hand.
The flange-mounted version of the planetary gearbox is comparable to its planetary counterpart. Using a flange-mounted planetary gearbox allows for a smaller, more compact design. This model also features a large-diameter output shaft, which helps achieve a higher level of torsional stiffness. This makes CZPT flange gearboxes particularly useful for applications where the direction of motion can change frequently. These gearboxes can be used with a wide variety of belts.
The PLQE 60-mm gearbox is used in Outrider's single-stage design. Its gear ratio is 5:1, while its dual-stage version has a 15:1 gear ratio. Both gearboxes have identical mounting configurations, but the two-stage version is slightly longer.
The PLN series of planetary gearheads from CZPT are the standard for high-precision applications. They're compatible with all major motor brands and sizes, and the company's adapter kits are available to fit almost any motor. This makes CZPT gearheads one of the easiest to integrate into a complex machine. They're also extremely easy to install, with the same torque as their corresponding spur gears.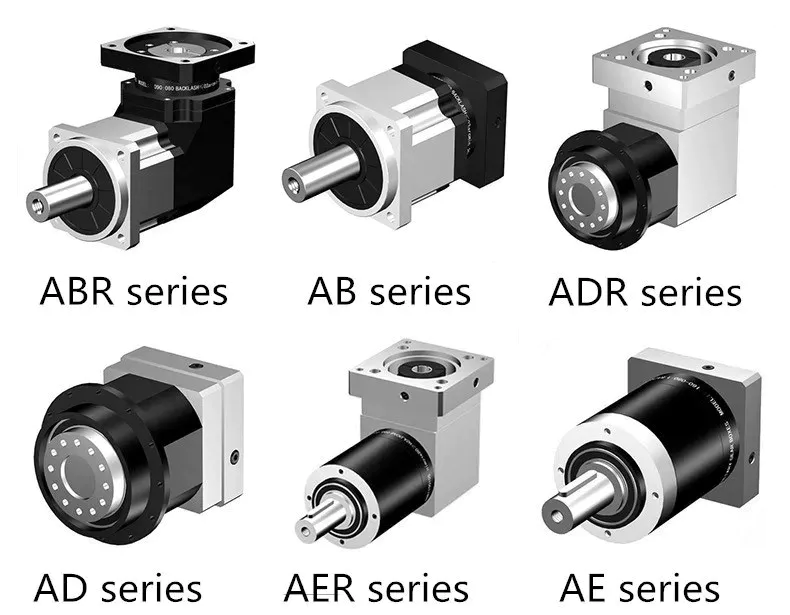 CZPT's
If you are looking for an efficient solution for screw press applications, consider using CZPT's 300M Planetary Gearbox. It has high axial and radial load capacities, compact design, high torque output, and torque arm. The 300M planetary gearbox is compatible with a variety of screw presses, including hydraulic press systems and digester systems. Its Torque control and direct coupling feature makes it easy to install.
CZPT's small planetary gearboxes have an output torque of 20:1 from individual ratios of 5:1 and 4:1. They run silently and deliver maximum transmission efficiency. The planetary gears are mounted on a ring that is fixed around the center sun gear. The ring acts as an output torque converter for the next planet stage. This planetary gearbox has multiple stages and a maximum ratio of 20:1 can be created from individual ratios of 5:1 and 4:1.
CZPT Motor is an innovator in the design and manufacture of miniature motors for industrial robots. Its offerings include brushless DC and brushed DC motors, as well as planetary gearboxes, encoders, and brakes. CZPT's products have a variety of uses in robotics, intelligent appliances, medical equipment, communication, and industrial automation. The company is also committed to providing custom designs based on customer specifications.
Another advantage of a planetary gearbox is its high power transmission efficiency. It is capable of approximately 3% per stage, allowing it to transmit more torque than a conventional single-stage gearbox. Planetary gearboxes are also compact and have a high torque-to-weight ratio. CZPT's Planetary Gearbox is the best choice for many applications. This gearbox offers the highest efficiency and is ideal for small-scale production.



editor by CX 2023-04-11
Gearing Arrangement: Planetary
Output Torque: N.m
Input Velocity: ~five hundred
Output Pace: ~one hundred
Ratio: 1.twenty five-450
Usage: Transmission Reducer
Application: Winch And so forth
Search phrases: Motor Planetary Gearbox Speed Reducer
Packaging Information: 1. Standard export bundle for Planetary Hydraulic Gearbox Pushed by Intermot IAM Hydraulic Motor 2. Special package deal available.
Port: HangZhou ZheJiang HangZhou
Hydraulic Planetary Gearbox Pushed by Intermot IAM Hydraulic Motor
1- IAMG series hydraulic transmission push can perform below higher force.
2- Hydraulic oil: advise utilizing high high quality, anti-foam and anti-oxidation mineral hydraulicoil.
The ideal functioning oil temperature is 30℃ to 50℃ and the permissible oil temperature is in between -20℃ for Robot 30mm 3000RPM Large Torque 2.38N.m 12v 24v Brushed DC Planetary Gearbox Equipment Motor to 80℃ When oil temperature is lower than 10℃ reduced-freezing hydraulic oil should be used. The viscidity of hydraulic oil is between 40-60 CZPT and
the permissible viscidity is 5-300 CST.
three- The advised hydraulic oil filtering precision is 25μm or more precision.
4- The hydraulic transmission gadget can rotate in each instructions AF60 helical Servo Planetary gearbox make sure you see the details in the charts. If customers call for the gear to rotate in opposite path, make sure you make notes when you area orders.
Gear modulus of planetary gearbox & phase
IAMG 2.5: displacement assortment: 570~1135 (cc/rev.)
IAMG 3: displacement selection: 1148~2702
IAMG 4: displacement variety: 3405~6075
IAMG 5: displacement variety: 7059~12478
IAMG 6: displacement variety :14228~21993
IAMG 7: displacement variety: 2571~26569
IAMG 9: displacement assortment:27548~44168
IAMG2.53: displacement selection: 2250~4135
IAMG34: displacement variety: 3618~8100
IAMG45: displacement variety: 7948~13745
IAMG56: displacement selection: 13645~27476
IAMG67: displacement assortment: 28245~46152
IAMG79: displacement variety: 40145~83056
IAMG912: displacement selection:96945~176720
Model
Displacement
(cc/rev)
Rated torque(N.m)
Speed
(r/min)
Efficiency
Motor variety
Planetary
gearbox
Brake kind
sixteen MPa
20 MPa
IAMG2.5-570
570
1198
1502
-90
.88-.nine
IAM -a hundred
C2.5-five
Z2.five
IAMG2.5-800
797
1769
2210
-90
.88-.nine
IAM -a hundred and fifty
C2.5-5
Z2.five
IAMG2.5-900
900
1875
2342
-90
.88-.nine
IAM -one hundred seventy five
C2.5-5
Z2.five
IAMG2.5-1000
1571
2134
2671
-90
.88-.9
IAM -two hundred
C2.5-five
Z2.5
IAMG2.5-1100
1135
2351
29239
-90
.88-.9
IAM -200
C2-5.5
Z2.5
More detailed complex knowledge, remember to contact our organization .
Benefits of a Planetary Gearbox With Output Shaft
The output shaft of a Planetary Gearbox connects to the driven wheels, while the input shaft comes from the engine. These gears are interlinked and create a wide range of gear reductions, which are necessary to get a vehicle rolling comfortably. Gear reductions are the place where the various "gears" are located. Here are some examples. They can help you determine what you need for your vehicle. You might also want to learn about planetary gears.


Planetary gearboxes
Modern cars are most likely equipped with planetary gearboxes. If you're unsure if your vehicle uses planetary gears, you should first consult your car's owner's manual. If not, contact your dealership's service department for more information. Otherwise, you can do a quick search on the internet to find out whether your car has a planetary gearbox. These gearboxes are generally more complex than ordinary gears. Additionally, they are equipped with more parts and require lubrication.
In addition to their low noise levels, planetary gearboxes are also remarkably efficient at transmission. These features make them ideal for applications requiring high torque and small footprints. Unfortunately, there are many different types of planetary gearboxes on the market, making it difficult to find the right one. The following article will give you some guidelines to help you choose the right planetary gearbox for your needs. Let's take a look!
Planetary gears
A planetary gearbox has two main components: the sun gear (also known as the central or input) and the planet gears (also known as outer or peripheral). These gears are connected together by a carrier to the output shaft of the machine. In some applications, it is necessary to use a planetary gearbox with lubrication to prevent wear and tear. A planetary gearbox also has a small ring gear that helps hold the planet gears together.
The main advantage of a planetary gearbox is that it uses several teeth that engage at once, allowing for high-speed reduction with a small number of gears. Because the gears are relatively small, they have lower inertia than their larger counterparts. Planetary gearboxes are compact, which makes them popular for space-constrained applications. Because of their compact size and efficiency, planetary gearboxes are also commonly used in motor vehicles.
Planetary gearboxes with output shaft
For high-speed, dynamic applications, planetary gearbox units with output shaft provide the optimal solution. Thanks to their low inertia, these gearheads deliver superior performance in many industrial applications. Additionally, their wide range of variants allows users to select the perfect product for their application. This article examines some of the key benefits of planetary gearboxes with output shaft. Read on to learn more.
The planetary gearbox has two major components: a sun gear and planet gears. The sun gear is usually the input gear, while the planet gears are located at the outer edges of the system casing. Planet gears are held together by a carrier that is connected to the output shaft. Before choosing a particular gearbox for your application, make sure that you check the specific requirements and the environment to which the unit will be subjected.
A planetary gearbox has less stages of gears, and thus lower backlash compared to spur gearboxes. Backlash is lost motion that occurs when the teeth of the gears are out of perfect alignment. This problem is common in all gears, but is significantly less in planetary gearboxes. As such, planetary gearboxes are more efficient. They can also be customized according to the specific engine model and motor flange.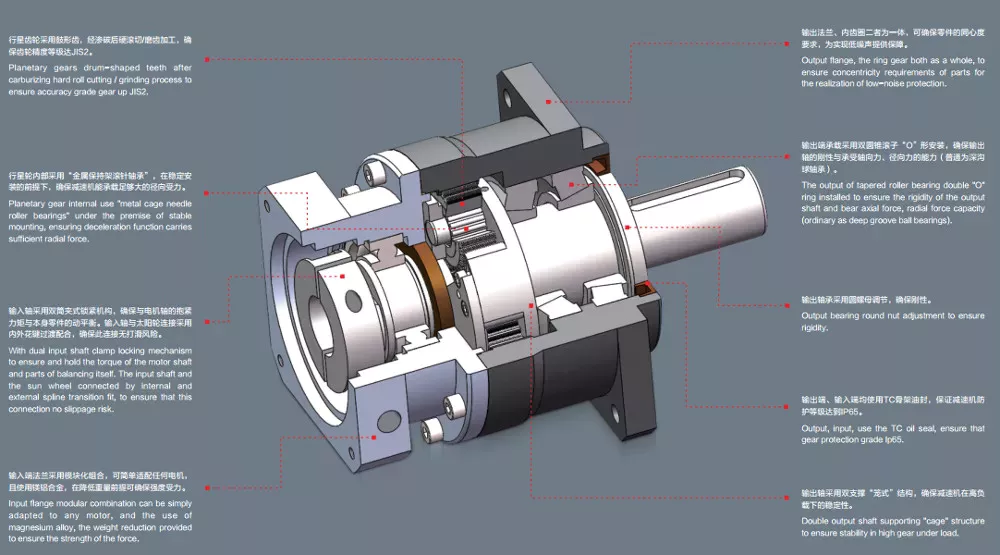 Planetary gearboxes with carrier
A planetary gearbox is a type of gearbox with three or more stages. They have a sun gear, which is usually the input gear, and planet gears, also called the outer gears. The carrier that connects the planet gears to the output shaft is called a ring gear. A planetary gearbox is generally designed to meet specific application and environmental requirements, but there are some factors to consider when choosing one.
The compact footprint of planetary gear sets results in high heat dissipation. This can be a problem in applications with sustained performance or high speeds. As a result, planetary gear sets often include lubricants, which present a cooling effect while also reducing noise and vibration. Some planetary gears even feature a carrier to make the installation process easier. Here are some things to keep in mind when choosing a planetary gear set.
Planetary gearboxes with carrier have several advantages over other types of gearboxes. Unlike conventional gearboxes, planetary gears have a common central shaft, and the tangential forces between the gears cancel out at the center of the ring gear. Because of this, planetary gearboxes are commonly used in input/output applications, and their compact size allows for a wide range of gear reductions. These gears can also produce higher torque density.
Planetary gearboxes with traction
Planetary gears are similar to the planetary system, in that each pinion rotates around a sun gear. The output of the planetary gear unit is lower than the drive rotation speed, but the torque is higher. As the number of planet gear wheels increases, so does the torque. Planetary gear systems contain three to four planet gears, and each is in constant mesh with the others. Power applied to any one member rotates the entire assembly.
Typical applications for planetary gear sets include high-precision motion control. In these applications, high torque, torsional stiffness, and low backlash are required. Planetary gear sets are also ideal for motors with higher speeds. A number of factors contribute to the reliability of these devices. The low backlash and large torque capacity of a planetary gear motor allow them to be used in a wide range of applications.
Planetary gearboxes with electric motors
If you're in the market for a new gearbox, you may have already heard about planetary gearboxes. The planetary gearbox is a high-efficiency, low-noise gearbox. CZPT manufactures high-torque planetary gearboxes with low backlash. They also make economy planetary gearboxes for lower loads. However, with so many different types available, choosing the right one for your needs can be challenging.
These planetary gearboxes are a compact alternative to conventional pinion-and-gear reducers. They offer high-speed reduction and high torque transfer, and are often used for space-constrained applications. But before you can understand how they work, you'll need to understand a little about their construction. There are a few things to look for that you may not have noticed before.
The most common type of planetary gearbox is a PM81/LN. It features a set of DC brush motors with diameter 77mm, a stator, and two or more outer gears. Each of these gears is connected to an output shaft through a carrier. They can also be used with brakes, encoders, or a clutch. A planetary gearbox is one of the most reliable gearbox types on the market.
Planetary gearboxes with hydraulic motors
A planetary gearbox is a combination of two gears, the sun and the planets. The sun gear rotates at high speed, while the planets roll around and orbit around the ring gear. The output shaft has the same direction of rotation as the input shaft. The benefits of a planetary gearbox include high reduction ratios, efficiency, space-saving compactness, and higher overload capacity. These gears are also more stable and compact, and they do not suffer from self-locking properties.
Planetary gearboxes are a highly efficient way to power hydraulic lifts. They can be input via electric, hydraulic, or air motors. The drive arrangement can be mounted on a bare shaft, splined shaft, or a parallel keyed input shaft. Depending on the application, bespoke gearboxes can be manufactured with a variety of features and functions.


Planetary gearboxes with combustion engines
There are many different applications of planetary gear sets. The most common is the distribution of power between two wheels in a car's drive axle. Four-wheel drives use two axle differentials, which are further augmented by a centre differential. Hybrid electric vehicles use summation gearboxes to distribute power from the combustion engine to the wheels and to an electric motor. Planetary gear sets also combine the two different types of motors to form one hybrid vehicle.
To understand how planetary gear sets work, it is important to understand the underlying mechanical principles. For example, Fig. 4.6 shows a stick diagram illustrating two planetary gear sets connected by a lever. The two levers are the same length, so the system is analogous to a single lever. When calculating the torque, it is essential to consider the lever diagram. Similarly, if two gear sets are connected by vertical links, the horizontal links must be horizontal.



editor by czh 2023-02-14